In this final look at the films nominated for the Oscar for best picture, I consider the merits of the remaining four nominees. While at the end of last year, I called "Birdman" the year's best movie, recent momentum suggests that the race is a toss up. And in the wake of the SAG awards, best actor is very much in play as well.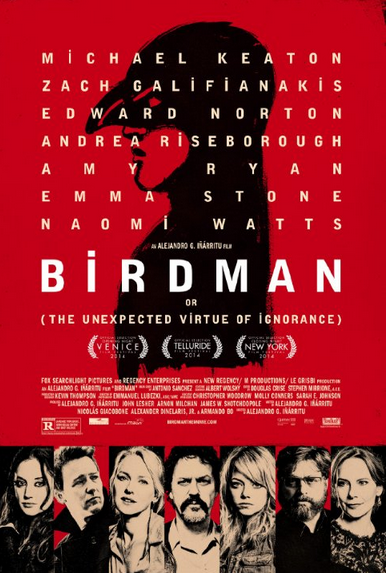 Birdman or (The Unexpected Virtue of Ignorance)

For some, the technical marvel that is "Birdman" will prove to be annoying even cold and lifeless. One critic friend of mine could not understand why the film is shot so that so much of it appears to have no cuts. He found its style distracting. I told him that I felt like the visual scope that feels as if it was shot in one continuance take is very much meant to capture the spontaneity of the stage. In fact, the melding of stage and screen is one of the film's over-arching themes and narratively important.
"Birdman" stars Michael Keaton as Riggan, an aging movie star who once played a superhero named Birdman over 20 years ago. He said "no" to the 4th film and never seemed to find a satisfying creative place in his career thereafter. While rich and still somewhat popular, he's a failure on a number of levels, including with his daughter Sam (Emma Stone), who now works as his assistant after a stint in rehab. The story that "Birdman" covers is Riggan's attempt to bring his adaptation of a Raymond Carver story to Broadway. He's an outsider and the theater types he encounters aren't really happy with a movie guy invading their turf.
"Birdman" isn't for all tastes. It is stiff even intellectual, although bawdy, at times, and will likely appeal ironically to viewers familiar with the stage (who will either love it or hate it). And even though the film seemed like an early best picture favorite, it might not capture the Oscar gold. In fact, given Eddie Redmayne's fine performance as Dr. Stephen Hawking, Keaton might find himself staying in his seat on awards night.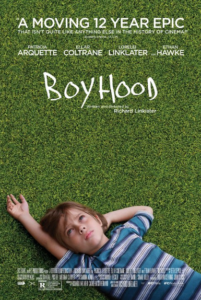 Boyhood
No doubt the sentimental favorite for the top award, director Richard Linklater's organic Americana epic is the kind of film that begs to be celebrated. Like last year's "Blue is the Warmest Color," the film is a lengthy coming of age tale, but unlike "Color's" edgy sexuality, "Boyhood" is wholesome and dare I say "good."
Shot over 12 years with the same cast members returning each year to reprise their roles, "Boyhood" shows us Mason (Ellar Coltrane) as he grows up. The familiar story elements cover the mundane evolution from a child to a young man.
The magic of "Boyhood" is that even though it's shot over 12 years, it works without becoming some kind of cliched sitcom or episodic soap opera. Shot on film as opposed to the emerging digital soup du jour, director Linklater ("Before Midnight," "Slacker," "Dazed and Confused") is able to build a largely uniform visual scope that tightens as the characters age and the project likely became more of an actual feature than a fun experimental exercise.
It might seem trite to say that like life "Boyhood" isn't perfect. But maybe that is part of its undeniable natural charm. While it is really an exploration of 12 somewhat uneventful years in the life of a fairly ordinary American family, it is never boring and rarely makes you think that anything that happens was forced. Sure, some sequences don't exactly work, but many viewers will excuse small lapses because they are so invested in the characters. You want to see Mason and those around him grow up. And in "Boyhood" you see much more than just time ticking away.
This textured tapestry from writer/director Wes Anderson continues his seamless meshing of animation and live action story-telling with some of the most touching and funny moments of any film this year. Anderson is an intricate master artist first and a filmmaker second. This has always been the case, but with "The Grand Budapest Hotel," he creates a world that perfectly melds the real and the fantastical.
Following the story of a bellboy named Zero (Tony Revolori) who gets his training and a lifetime of education from his mentor M. Gustave (Ralph Fiennes), "Grand Budapest" is a darkly funny fable that will stand the test of time. Everything in this rich film is combed and crafted with no detail ignored. And the ensemble cast was like few others in 2014. Since this film is his most successful box office draw yet, Anderson proves that quirky, eclectic story-telling can have mass appeal. Repeat viewing is a must.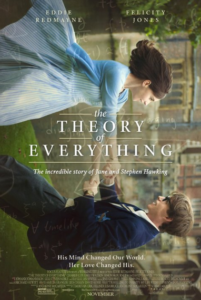 The Theory of Everything
"The Theory of Everything" is simply sublime. Sure, it is about Dr. Stephen Hawking and his scientific theories are a part of the narrative. But it is, at it heart, a love story.
Covering the time before Dr. Hawking is nearly overcome by ALS, we meet him as he romances Jane (Felicity Jones) while the two attend college. The two fall in love and when the effects of ALS begin to disable Dr. Hawking's body, Jane stays with him. They marry and have children and maintain a fairly normal life. Always lurking in the background are Hawking's landmark and evolving theories, which complicate their relationship.
Beautifully captured and impeccably performed, it came as no surprise when Eddie Redmayne found himself delivering a speech for best actor at this year's SAG awards. While the early money seemed to be on Michael Keaton for his work in "Birdman," Redmayne's transformation into Dr. Hawking is really to be lauded. And it helps that "The Theory of Everything" is a bit more traditional and accessible than the largely experimental "Birdman." Watching both films in a double feature would be interesting given the difference in style.
The 87th Academy Awards will be broadcast live on ABC on February 22, starting at 7PM.
Editor's Note: This article first appeared in print and online at the Times-Herald.
Please follow and like us: