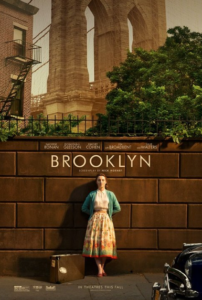 When you're young, leaving the comfort and safety of home can be hard to do.  But sometimes never leaving home is harder.
When Ellis (Saoirse Ronan) is granted the chance to leave Ireland for the United States in the 1950s, she has concerns.  Her sister is confident that she will find herself in America, a far off place where she will initially make a new home in Brooklyn, New York.  Ellis is a kind, sensitive soul naive to the ways of the world.  And leaving her mother and sister behind only adds to Ellis' trepidation.
Once in the States, Ellis discovers unique opportunities including the chance to receive a formal education and find romance. The church provides great assistance finding Ellis a warm, familiar boarding house run by the motherly Mrs. Kehoe (Julie Walters).  And the knowing Father Flood (Jim Broadbent) can see in Ellis great potential encouraging her to find a place in America even though she is terribly homesick.  In time, Ellis meets a humble plumber named Tony (Emory Cohen) and love begins to creep in.  It's an old fashioned courtship but not without potential pitfalls.
"Brooklyn" is a lovely film.  Expertly lensed by cinematographer Yves Bélanger ("Wild"), the moving images transport us to 1950s New York and rural Ireland displaying an authentic feel for the time and place. Like another much buzzed about 2015 film, the Todd Haynes movie "Carol," the 1950s again provides a rich cinematic setting. And in "Brooklyn," the contrast between Ellis' small town in Ireland and life in the big city of New York is striking.
In one exquisite scene, Bélanger captures the Irish shoreline beautifully, which makes the scenes in New York even more interesting. A particularly profound moment is reached with a scene set in a dance hall in New York where we see Irish immigrants suffering as the country seeks recovery from the Depression and War.  Especially impactful is an Irish song sung at this church-related charitable function in which many immigrant men gather to celebrate the holidays.  The song named Casadh an tSúgáin put a lump in my throat even though it is sung in an Irish language that is unknown to me.
The conservative attitudes of the time also provide narrative conflict.  Ellis falls for an Italian man, who just happens to like Irish girls.  While the story plays out with a noirish thriller flavor, filmmaker John Crowley working from a fine script by celebrated screenwriter Nick Hornby ("About a Boy," "An Education," and "Wild") plays it straight and the romance takes center stage.
The performances are to be lauded with Ronan maturing here and showing that she is worthy of early praise.
Closeup shots of Ronan's face and eyes are a constant throughout the film, and she conveys great depth with often little explicit dialogue.  Familiar faces in Walters and Broadbent give the story stability even though the focus is on the youngsters.  A love triangle develops as Ellis is wooed by an Irishman played by Domhnall Gleeson ("Ex Machina"), who steps away from his geeky former roles and into a genuinely handsome, romantic love interest.
Like Ronan, Gleeson is everywhere these days and will be seen in the upcoming "The Revenant."
"Brooklyn" is a wonderful romance, a nice change of pace in which people are permitted to act like real people instead of caricatures that serve as manipulative plot devices.  It's one of this year's best films.
Please follow and like us: