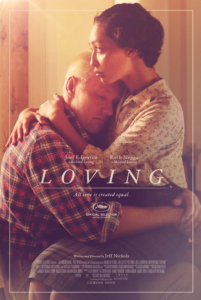 November has been jump started with two early Oscar hopefuls and "Loving" is an easy shoe-in in several categories.  Chronicling the struggles of Richard and Mildred Loving, an interracial couple, who risk everything when they marry in 1958, "Loving" is a love story first and second, a historical drama about the Constitutional challenge to anti-miscegenation laws.
We meet the Lovings prior to their marriage when their romance is in full swing in 1950s Virginia.  After traveling outside the state to legally marry, because Richard (Joel Edgerton) is white and Mildred (Ruth Negga from TV's "Preacher") is black, they return home to raise their family.  But when the local authorities get wind of the marriage, they are arrested and prosecuted for violating Virginia's anti-miscegenation laws.  Thus starts their journey over many years of living in exile outside the state and away from their family while they fight through the courts for the right to legally marry in all 50 states.
Gifted filmmaker Jeff Nichols (see "Mud" and "Midnight Special") hits high notes in low tones as he focuses his narrative on the Lovings looking at the story from their point of view.  Like last weekend's "Hacksaw Ridge," the love story is handsomely told and very romantic.  Love is on display here in a subdued but impactful way.  Edgerton and Negga are quiet playing Richard and Mildred.  They tenderly interact in such a natural way that the actors melt into the roles perfectly.  Negga, not an actor many may be familiar with, will be a huge star after this film, possibly garnering awards notice.
Please follow and like us: