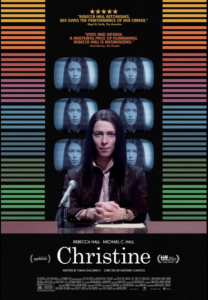 The true story of a relentlessly motivated Sarasota, Florida, television news reporter, "Christine" is an unnerving indie thriller with serious dramatic underpinnings.  In her quest to succeed, title character Christine (played by Rebecca Hall) has ignored everything else and even shut out those who love her.
Christine is a reporter who tries to elevate the material on nightly broadcasts attempting positive human interest stories and eschewing the "if it bleeds it leads" approach.  Unfortunately, this philosophy isn't enough to vault her to popular success. Hopeless and rejected by a former football star turned television station anchor (played by "Dexter's' Michael C. Hall), Christine's depression manifests itself in dangerous ways.  And her ultimate decision will all be captured violently on live television.
A tour de force of performance and retro influenced directing and visual style, "Christine" is a small triumph.  And like the true story adaption "Loving" opening wider this week, it proves that the best narratives can't be made up.
Please follow and like us: