It was impossible not to consider the current political climate when deciding on the ten best films of 2017. President Trump's presence loomed large over most every film released regardless whether a connection was intended. For example, even in Kong: Skull Island, a film that takes place in 1973, over a shot of the White House, John Goodman playing Bill Randa remarks, "mark my words. There'll never be a more screwed up time in Washington. But we can't let it stop us."
So, then with nearly each and every review I wrote in 2017, somewhere in the recesses of my mind, politics teased me. And looking at the list below through the social and political lens, there's a lot of be learned from the best films of last year.
1. Dunkirk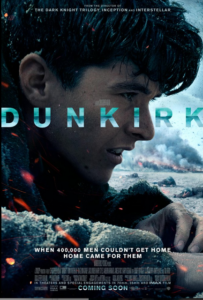 Christopher Nolan's WWII historic epic is a triumph of form and substance. It is also one of the year's most efficient releases, managing a runtime of a breezy 106 minutes. The screenplay should be recognized as Nolan, also writing here, adopts a unique structure that through shifting time chronicles almost the entire event known as the "miracle of deliverance." Cinematographer Hoyte Van Hoytema crafts a beautiful image that never reminds you that the camera is present. We get aerial scenes, shots on the beach, on the ocean, and even under water. The pallet is seamless throughout and never distracting.
It's hard to imagine a film in 2017 that did not represent everything that's great about the motion picture form. And Dunkirk was rewarded handsomely as audiences flocked to see it in the heat of the summer that these days is usually marked by blockbuster comic book adaptations. This feat, in an of itself, in a small way, restored my faith in the movie-going public. Good work will be seen and celebrated even by the same viewers that helped give The Fate of the Furious $1.2 billion in worldwide box office.
2. The Florida Project
Sean Baker's The Florida Project is about living life on the edges. It gives us a view of those edges without demonizing the people nor by romanticizing their hard scrabble existence.
Taking place primarily in and around an Orlando, Florida, motel, the story follows single mother Halley (Bria Vinaite) and her daughter Moonee (Brooklynn Prince) as they try to make a life for themselves while living transiently from room-to-room. Baker's organic, and sometimes meandering script, which he co-wrote with Chris Bergoch, pulls no punches—it understands the reality that is being dramatized. Mixed into the mother/daughter story is the story of Bobby (Willem Dafoe), the motel manager, who, in his own way, tries to help his tenants, while still maintaining his job.
Like Baker's shot on an iPhone film Tangerine, The Florida Project literally oozes with authenticity that is often painful to watch, which makes for a firm but fair depiction. And it's pretty magical too.
3. Three Billboards Outside Ebbing, Missouri
In his review of Three Billboards, DFF critic Jeff Marker pointed out that "no one crafts scenes like Martin McDonagh." And in a year in which Christopher Nolan played marvelously with structure and Aaron Sorkin tried his hand at both writing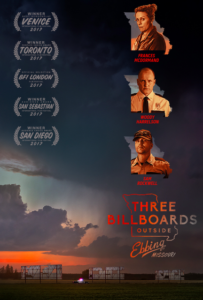 and directing, it could be argued that the writing in Three Billboards is the best of the best.
But it helps that a director like McDonagh is able to assemble and get the best out of some the most eclectic faces in film today. Led by Frances McDormand, who plays a vengeful, grieving mother, Three Billboards is a marvelous ensemble. There are so many powerful scenes in this film that it would be impossible to point to one moment over another. As Marker observed in his review, legitimate criticism has been levied against McDonagh who permits mundane characters to change abruptly and behave similarly to the hit men in his 2008 film In Bruges. While that might be true, I like what Marker says about this shift.
"I think we need to grapple with the fact that the vengeful America presented in Three Billboards, in which fatal, sudden violence is a constant possibility, is not only plausible," Marker says, "it is an accurate picture of who we have become."
4. The Post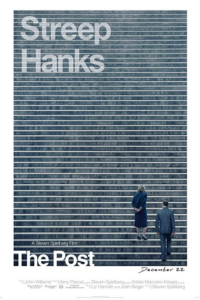 My capsule review of The Post is running in various monthly metro Atlanta prints, and I intend to dive into it next month in a full length review, but go ahead and call me a Steven Spielberg softie. His work is not only consistently entertaining, but as he proves with The Post, it is also politically and socially important. In this year in which our President used "fake news" to deflect facts and dubbed the news media as "the enemy of the American people," perhaps no other filmmaker could have made a more relevant film.
Working with Tom Hanks and Meryl Streep, Spielberg tells the story of how the nation's first female major newspaper publisher fought President Nixon and the government over the leaked Pentagon Papers. The resulting Supreme Court opinion, which ruled in favor of the Washington Post over the government, may not have been the landmark First Amendment ruling that some observers wanted, but the fact that the media stood up to the power of government and won cannot be denied. The conflict between national security and free speech continues, but the timeless system of checks and balances ensures that every American voice can be heard.
What will be interesting is how voters will handle this film in the upcoming Oscar race. Now that the Academy is attempting to "hip up" its membership by moving older members to some sort of emeritus status, I can only imagine that The Post will not win any award, and may even find itself on the outside looking in when it comes to key nominations. But don't let that stop you from taking it in. This may be an old-fashioned Spielberg film, but it's also one of the year's best.
5. The Square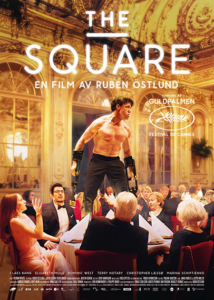 The Post wasn't the only film that seemed eerily appropriate in 2017, the struggle to find a safe place to exercise free speech as well as the question of what is art was explored fantastically in the Swedish satire The Square. Written and directed by Swedish filmmaker Ruben Östlund (Force Majeure), the film proves to be uncomfortable and provocative entertainment.
The story concerns a contemporary art museum curator named Christian (Claes Bang) attempting to launch an edgy art exhibit. The simplistic exhibit will feature an LED lit square embedded in the ancient stone sidewalk in front of the museum. Inside that square everyone will be respected as equal. Of course, in time, great duplicity is uncovered.
Featuring a number of jaw-dropping sequences especially one in which an actor (Kong himself Terry Notary) impersonates a wild ape at a dinner party, The Square bites hard on social mores exposing the inherent hypocrisy associated with some of the loudest voices sounding the political correctness alarm.

6. Call Me By Your Name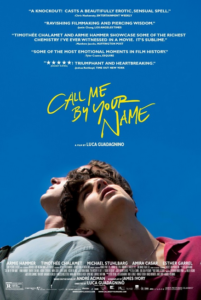 2017 was the year where to his horror Alabama Republican Senate candidate Roy Moore saw his sure thing victory turn upside down when allegations of sexual misconduct (even molestation) broke. A nation-wide discussion about teens and sex erupted as Moore initially waffled on whether he dated women in their teens when he was in his 30s. A film like Call Me By Your Name set in 1983 involves a 24 or 25ish man engaged in an explicit sexual affair with a 17 year-old young man.
Breakout star Timothée Chalamet, who was 21 or so when he shot the film, easily sold his characterization of the 17-year-old Elio physically. But Armie Hammer, who is really good in the film, looks older than 25, even though he was 30 when the film was made. Nevertheless, putting aside any controversy, Call Me By Your Name just might have been the year's most romantic film. And given the Academy's emphasis on youth, look for Chalamet to find himself nominated for best actor.
7. The Shape of Water
No film looked better than Guillermo del Toro's The Shape of Water in 2017. A wonderfully dark, adult fairy tale, director del Toro (Hellboy) ventures back to his best work namely 2006's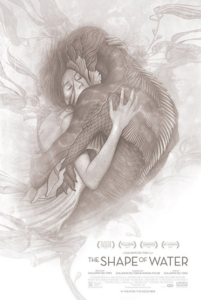 perfect Pan's Labyrinth delivering a true awards contender. And once again, there is a current event connection—much of the Water conflict is motivated by a Cold War fear of Russian meddling.
This soon to be classic tale has a cleaning lady (Sally Hawkins) falling in love with an Amphibian Man (Doug Jones). It's an interspecies love story, pure and simple. The fact that the producers had faith in del Toro, who wrote this film with Game of Thrones producer Vanessa Taylor, is really amazing. And the fact that del Toro and his game cast pulls it off so marvelously is equally impressive. The Shape of Water contains graphic, but impossibly beautiful imagery of two creatures expressing their love and affection for one another in the most physical way possible. In other words, there's forbidden sex here. But what could have been exploitative and lurid is nothing of the sort.
8. I, Tonya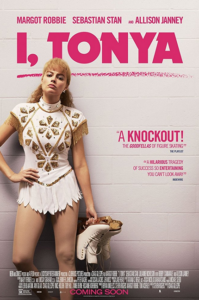 What is truth? Director Craig Gillespie's arguably revisionist I, Tonya takes a look at one of darkest scandals in sport leading up to the 1994 Olympics. Taking a faux documentary approach writer Steven Rogers' script uses interviews with the characters in what amounts to an insightful and amusing experimentation in perspective. The main takeaway is that ice skater Tonya Harding (played wonderfully by Margot Robbie) wasn't such a monster.
The story involves one of the biggest media events of the 1990s. In 1994, Harding conspired with her ex-husband, Jeff Gillooly (here Sebastian Stan), and her bodyguard, Shawn Eckhardt (Paul Walter Hauser), to attack Harding's skating competitor Nancy Kerrigan. If you buy the account as it is told in I, Tonya, the violence was the product of the bumbling Eckhardt, who fancied himself some kind of security expert. But Rogers' script smartly keeps us guessing as the interviews and remembrances constantly shift based on who is relating the events.
I, Tonya uses an exceptional slight of hand in managing to make us feel somewhat sorry for Harding, who was abused by her mother and Gillooly. But Gillespie and Rogers don't let us off easy, as they remind us that Harding still remains unapologetic. And by focusing exclusively on the Harding camp (Kerrigan is barely shown in the film), we get one side of the story. It ultimately makes us question the nature of truth, but also, acknowledge that the whole truth can only be found in examining and confirming the facts, even the alternative ones.
9. Get Out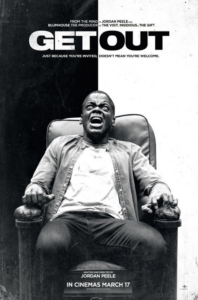 Topping the Southeastern Film Critics Association and Atlanta Film Critics Circle lists, Get Out could quite realistically be named best picture at the 2018 Academy Awards. This hugely entertaining horror social satire from comedian turned director Jordan Peele is a blistering comment on race in America.
During a year that marked a historic low point with the tragic racially charged events in Charlottesville, Virginia, a film like Get Out seemed prophetic. The story is simple enough, Rose (Allison Williams) takes her boyfriend, Chris (Daniel Kaluuya), home to meet her parents, Dean (Bradley Whitford) and Missy (Catherine Keener). A potential conflict concerns the fact that Chris is African American and Rose is white, but initially after meeting Dean and Missy, everything seems cool. Of course, first impressions are deceiving as Chris realizes that the smiling faces mask some dark secret.
Spoiling the layers of this horror/thriller would be unforgivable, as Get Out might be one of the most clever suspense films to vie for the end of the year top awards since The Sixth Sense.
10. Blade Runner 2049
While The Shape of Water is clearly one of the best looking films of 2017, Blade Runner 2049 should be considered for best cinematography. Thirteen-time Oscar nominee, Roger Deakins has been a prominent part of the "for your consideration" campaign for this one and with good reason. He managed to seamlessly integrate the visual look of this sequel with its 1982 predecessor.
But aside from the look of the film, Blade Runner 2049 pulls off something really special—it's arguably better than the classic that came before it. Fans did not complain and critics were overwhelmingly positive. Ryan Gosling was a great successor to Harrison Ford, and Ford slipped back into Rick Deckard, this time having matured as an actor. The script is better in every way, and this permits Ford to be more fully dimensional. Director Denis Villeneuve proved he could handle the pressure and delivered a visually striking and narratively interesting and provocative science fiction epic.
Honorable Mentions:
Lady Bird is on most top ten lists and it narrowly missed mine. While it is extremely well made and acted, Greta Grewig's charming coming of age film is highlighted by two critically lauded performances in Saoirse Ronan as the title character and Laurie Metcalf as her smothering mother. But as good as Lady Bird is, it did not challenge me any more than the lovely Gifted and failed to make me think as much as Get Out or I, Tonya.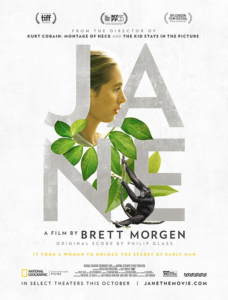 Brett Morgen's unique Jane is a likely best documentary feature nominee. In order to tell the Jane Goodall origin story, Morgen uses hours and hours of previously unseen film to accompany a long form interview with his subject. The result is really a remarkable achievement, because it mixes new audio and video with older recordings and images in a fascinating way that is never distracting or forced. Like previous Oscar winner Amy, the changing documentary form continues to evolve.
One surprising development is that the French film BPM (Beat Per Minute) is not on the short list for the Oscar. Most critics agree that it is one of the year's best films and certainly should be considered for the top awards. The story follows the group ACT UP Paris in early 1990s. It is a moving piece of cinema that reminds us of a darker time and the heroes that stood up and demanded governmental and corporate action.
Politics were the theme of 2017, but this was nothing new. As the year ended, I found myself revisiting John Frankenheimer's 1964 film Seven Days in May. Cinema is always a reflection of who and what we are at any particular time, and, in its unique and entertaining way, the power of film can raise the questions that otherwise might be ignored.
Please follow and like us: