An arguably more restrained and refined narrative than her excellent "Winter's Bone," director Debra Granik's "Leave No Trace" is intimate story-telling at its best.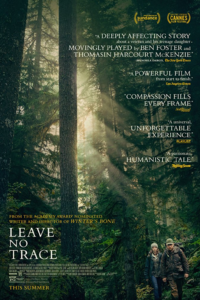 Mystery wafts through this tightly told father/daughter story. We meet Will (Ben Foster) and his child Tom (Thomasin McKenzie) as they live an isolated existence in a wooded state park. Tom is very well adjusted to the rough lifestyle of permanent camping, foraging for food, and collecting rain water using a skillfully constructed tarp.
Initially, I questioned whether this was a post-apocalyptic setting. But as moments pass, we learn that Will has withdrawn from traditional society taking with him his young daughter. Something bad must have happened in the past causing the extreme decision to get off-the-grid and take up a transient residence in a forest in Oregon. But Granik, working from a script she wrote with her "Winter's Bone" co-writer Anne Rosellini, who adapt from Peter Rock's novel "My Abandonment," keeps the viewer guessing, as the mystery slowly unfolds.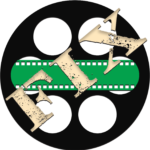 Told incrementally, the perspective is very much inside Tom's experience. She deeply loves her father, but as she has grown older, the time is coming when she will make her own decisions. And while Will has schooled Tom in reading, writing, and arithmetic, her social skills are suffering. Also, past events may have been left murky even to Tom, because the mercurial Will is a man of few words.
As Will and Tom move from their isolated state park home to a temporary lodging with government support, Tom gets a taste of another world. And scenes where Tom interacts with other children are tender, reflecting innocence in a moving way. But this isn't "The Mosquito Coast" or even "Captain Fantastic," the off-the-grid approach that Will has adopted isn't guided by a political philosophy, or, frankly, any philosophy that is identifiable. Will is escaping, he's running away, and he simply wants to be left alone.
There is a sequence late in "Leave No Trace" where a character named Dale (a wonderful Dale Dickey) sorts through groceries for certain items to put in a bag that she ties to a tree in the woods. Dale explains that she does this for a mysterious man living alone, and after leaving the bag full, the food disappears, but the bag is left. Without spoiling the magic of this profound discussion, I think it is critical to understanding what is at work in this narrative.
While Will isn't Henry David Thoreau, he is entitled to seek out his Walden Pond. And exposing the virtues of nature and being alone with ones thoughts is part of the American, well, the human experience. It is clear that transcendentalism runs through Granik's movie like the early work of Terrence Malick. And it's a wonderful thing for a viewer to take part in.
It is impossible not to praise Ben Foster for his work here are the troubled Will. Not only does he convey, in a role with scant dialogue, love for Tom sincerely, but he also captures inner pain in an impactful way. And the young Thomasin McKenzie, who does most of the talking for the duo, is really special. Like what Granik did for Jennifer Lawrence, this role will go far to advance her career.
"Winter's Bone" was a great little thriller. With it, Granik, who had already gained high-profile notice with her 2004 Sundance winning feature "Down to the Bone," launched the career of Jennifer Lawrence with "Winter's Bone." But as good as that film was, it relied heavily on neo-noir elements involving an pressured investigation by a daughter for her missing, criminal father. The setting was remarkably spot-on, but it felt manipulative as the crime story pushed movie to a muted, but nonetheless thrilling, conclusion.
By comparison, "Leave No Trace" is a mystery, but an intimate and mature one, that does not rely on manipulation to advance the narrative. Tom and Will are finding themselves, and we go along with it. And because we know nothing of their history, and these two souls are so genuine and natural, we want to know more and see where the journey takes them.
Please follow and like us: