"You have a gift," Rob Estes told me during a documentary film shoot on his farm down in Meriwether County. Rob often talked about "talents" and that since being diagnosed with brain cancer, he felt his ability to recognize talents had been greatly enhanced.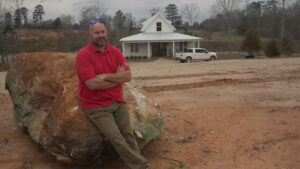 Obviously, when faced with a terminal illness, a moment of clarity is possible. For Rob, that moment lasted for a lengthy extended period, and without being trite, I likened what was noticeable in Rob to a superhero origin story: Rob's illness led to superior empathy that grew exponentially. And having spent time with him discussing his changes, he would absolutely hate this comparison. Rob was determined to be humble, and his grace and tender manner was impactful. Both on and off camera, no question I asked, no matter how probing, was out of bounds. He shared, and kept sharing.
Everyone who came in contact with Rob since the devastating diagnosis can attest that he saw into his fellow man deeply. I just couldn't shake it after spending time with him.
My wife, Maggie, and I had been hired to produce a number of short documentaries to promote his foundation, Can't Never Could. Since Maggie is a brain injury survivor, these projects were very personal to us. We were determined to capture Rob's vision, and working with his wife Christi, he was very specific as to what he wanted. It was a unique and rewarding creative process. He merely asked us to capture truth.
At one point, Rob shared scans of his brain that revealed the glioblastomas that ultimately took his life. He often spoke frankly about the harsh reality he faced. There was nothing depressing about it, rather, he spoke of "graduating." And he cherished the time that God had given him. So few had been given the chance, and ironically, Rob knew he was lucky.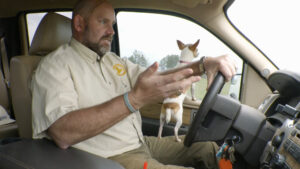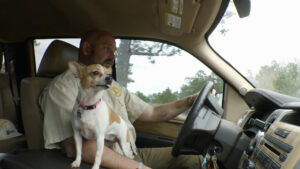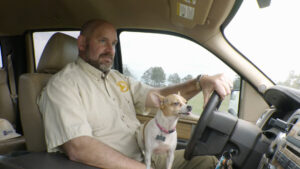 One afternoon, Rob, with his little dog by his side, took me and my daughter on a trip around his family property known as Big Red Oak Plantation. We piled into his truck, and I filmed Rob while he drove us into the woods. My 13-year-old daughter, Layla, who monitored sound, found the whole experience very rewarding.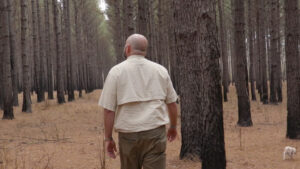 Rob told us about working with the producers of "The Hunger Games" sequel that was shot on his property. And he talked about the history of his family. At one point, he received a phone call from a telemarketer that offered him a "pre-approved" business loan. The camera was running during this exchange.
I was filming some b-roll, and Rob was wearing a wireless microphone. As he listened to the telemarketer, and I heard it through my headphones, I was tempted to turn the camera off, but I just thought that Rob wouldn't care and I kept filming. Rob was so easy to work with. He calmly explained to the telemarketer that he had brain cancer and had retired. The call ended abruptly, "click," and Rob just laughed it off. He said he got a lot of those type calls.
Later on, when I returned to the studio and transferred the footage to my editor, I uploaded that segment to a private viewing location. Rob watched it immediately and joked that I had "the money shot." He was a very fun guy on those shoots, and I will miss our collaborations.
Growing up in Coweta County, I knew of Rob though mutual friends and acquaintances. The county was much smaller back in the 1980s, and I attended a different high school, the then tiny East Coweta High School, a place where you couldn't throw a decent party without inviting everyone. Later on, when I returned to Newnan after law school and started my career, my path crossed with Rob on the golf course and at social gatherings.
He was big, warm guy who was always surrounded by his devoted buds that cared about him, and you could tell he cared about them as well. Rob was a man who would always take time to talk with you. And he was a good listener. Maybe that is why he rose so quickly in business, finding success as a landscape architect. Listening is vital—a talent.
But Rob's real success, I would say, came after he sold his businesses following the diagnosis. Not only did he leave behind a beloved wife (who shares his business savvy) and two wonderful children that I was fortunate enough to interview at length for our productions, but Rob left a legacy in a foundation that does good. CNC really helps people. It's a legacy that will endure.
Rob Estes passed away on the morning of December 17, 2017, having fought valiantly against a glioblastoma. For more information about his foundation, Can't Never Could, visit: https://cantnevercouldinc.com/
Please follow and like us: