Ambrosio catches lightning in a bottle casting "Red Scare" podcaster as his lead.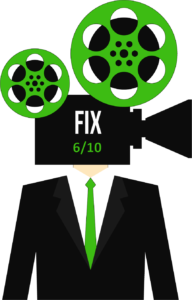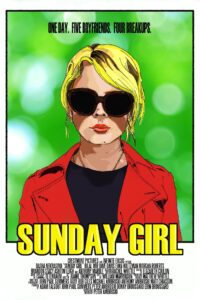 Writer/director Peter Ambrosio finds his perfect deadpan star in Dasha Nekrasova. As Natasha, Nekrasova is wonderfully droll and sarcastic. It's a character that's always on edge. For months, she's been clandestinely dating five very different men. The whole time, she carefully avoided disclosing her non-exclusivity. A reckoning is coming. But it's self-harm of her own making, and, painfully, Natasha decides to break up with each them, all in one day.


If there is a failing in "Sunday Girl," it's the opening. Natasha visits with one of her boyfriends named Victor (Bilal Mir) to tell him that their relationship is over. In this extended sequence, Victor speaks with such a stilted tone and pretentious manner that some viewers will turn the film off, concluding that it's poorly written or acted. DON'T DO THIS! Like everything in the movie, the pacing and dialogue are intentionally deliberate. And it's all dryly funny. It's unfortunate that this somewhat flat, opening scene distracted from the well-written and solidly performed material after that.

Each of Natasha's boyfriends has their odd idiosyncrasies. Naturally, Victor is a struggling poet. George (Brandon Stacy) is a quiet thinker. Tom (Evan Holtzman) is the hot guy who's right for what ails her in the heat of the moment. Jack (Dave Davis) is an angry laborer, committed to digging a ditch that he refers to as a "ha-ha," with a wink and a nod to Andrew Bujalski. And the sweet Winston (Morgan Roberts) is a nice guy with sincere feelings for her. On top of it all, a possible sixth love interest is a creepy photographer named Anton (Anthony Marble).


For his meandering narrative, Ambrosio raised part of the budget using the crowd-funding platform Kickstarter. Armed with a tiny allotment, he was fortunate to assemble a game and talented cast led by the famously sardonic Nekrasova. Following a viral video interview by InfoWars back in 2018, the winsome actress gained the nickname "Sailor Socialism." Because of InfoWars' removal from YouTube, that video might be hard to find online. But it was featured prominently on "Last Week Tonight with John Oliver." Nekrasova smartly parlayed her fame into the popular podcast "Red Scare." In "Sunday Girl," she's perfect, playing a young woman, who is lonely even when she has the affection of five adoring men.

"Sunday Girl" sure doesn't look like an ultra-low budget feature. Cinematographer John Paul Summers gives us consistent visuals that ironically play against Natasha's pent up angst and mounting aggression. It's a very filmic approach, reminiscent of a playful romantic comedy. Of course, Natasha feels anything but romantic, as she navigates one painful breakup after the next. The lazy, flowing movement of the camera strikes the right natural mood. It's lovely cinematography that you don't notice, emphasizing the quirky story and troubled central character.


It's easy to reference Mumblecore when talking about a film like "Sunday Girl." Fans of Bujalski (see "Funny Ha Ha") will want to digest this one. But Ambrosio has a secret weapon in Nekrasavo, who elevates the entire production. And if her star rises, "Sunday Girl" might turn into her "Ellie Parker." Could this be the humble film that hints something big on the horizon?