Caillou calls the new KINGSMAN wacky.
Caillou confirms what you already know, The Emoji Movie isn't worth a text…
Caillou looks at Nolan's blockbuster war picture the weekend after its release.
Caillou reviews last weekend's number one film. Watch his video review too!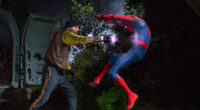 Caillou gives his thoughts about the cinematic wall-crawler.
Caillou is enchanted by David Lowery's spooky indie.
New to DFF, film critic Caillou Pettis sounds off about the fifth "Transformers" film.