Watch the trailer for THE FAVOURITE, which is having great success at the indie box office.
Sure to be a big Christmas hit, watch the trailer for MARY POPPINS RETURNS!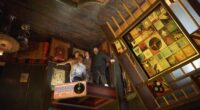 Watch the trailer for ESCAPE ROOM opening in January.
Watch the trailer for THE LION KING!
Jonathan analyzes the red band trailer for Boots Riley's trippy new comedy.
Suki Waterhouse is stuck in the post-apocalyptic desert again, and she's kicking butt.
Tom Cruise in sixth MI film. Watch the new trailer, and Jonathan ranks the previous films.
New trailer for troubled production looks rocking.
Taron Egerton and Jamie Foxx take up the bow and arrows in a reboot of the legendary mythic character. Some stories never die. British director Otto Bathurst (who directed "The National Anthem" episode of "Black Mirror" in 2011) takes up the property with this new take on the legend. "Kingsman" star Taron Egerton stars as Robin, with Jamie Foxx appearing as Little John. Perfect casting of Ben Mendelsohn as the…
Trippy new film is from the director of IT FOLLOWS.