Super funny trailer for "Little," a narrative that we've seen before, but never seems to get old.
Frightening trailer has a creepy Colm Feore hypnotizing a young boy with major problems.
Lupita Nyong'o gets bloody defending her family in Jordan Peele's new film "Us." Watch the first trailer.
Watch the trailer for THE FAVOURITE, which is having great success at the indie box office.
Sure to be a big Christmas hit, watch the trailer for MARY POPPINS RETURNS!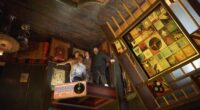 Watch the trailer for ESCAPE ROOM opening in January.
Watch the trailer for THE LION KING!
Jonathan analyzes the red band trailer for Boots Riley's trippy new comedy.
Suki Waterhouse is stuck in the post-apocalyptic desert again, and she's kicking butt.
Tom Cruise in sixth MI film. Watch the new trailer, and Jonathan ranks the previous films.