Interesting idea for a short film has trouble translating to feature length.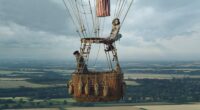 Felicity Jones and Eddie Redmayne reteam for balloon adventure.
Taika Waititi's dark satire provokes much discussion.
Director's edgy debut comments on important issues within the crime/road picture genre.
Rian Johnson assembles amazing cast for throw-back mystery thriller.
Todd Haynes and Mark Ruffalo team up for detailed legal drama.
Noah Baumbach gives us his best work with insightful look at modern divorce.
Adam Driver reads a lot in political thriller, ripped from recent history.
Trey Edward Shults wrestles once again with the family dynamic.
Friendship transcends the racing in James Mangold's latest.