Is this Sundance-style indie worth visiting at your local theater? Jonathan takes a look…
Joe Dante's award-winning chiller finally gets a 3D release in Atlanta.
Writer/director David Ayer explores the life of the "good" gangster cop.
Jonathan looks at the popular documentary expanding to a theater near you.
Check out Jonathan's review of William Friedkin's vulgar KILLER JOE.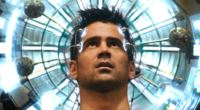 Jonathan thinks he's seen this one before.
Does the hype live up to the promise?
Jonathan weighs in on the reboot of the beloved franchise.
We know that Channing Tatum can dance, but can he act?
Part of the team behind the STAR TREK reboot try on straight drama this weekend.