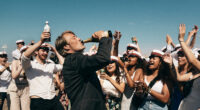 Denmark's Academy Award submission features the re-teaming of Vinterberg and Mikkelsen.
Jonathan stuggles to find a purpose for this remake.
Oscar nominee from France is exciting cop thriller with social import.
Bong Joon Ho's new film asks how far you'd go for your family in the "gig" economy.
Sweden's foreign language entry might be this year's most unusual film.