The cup nearly runneth over in overstuffed comic book epic.
Jonathan reviews a few of the short films that played the 2019 Atlanta Film Festival.
The breaking news of the college cheating scandal makes me think that I've got to sit my two teen kids down and explain to them how sorry I am that my wife and I don't have the wherewithal to get them into college. Forget about paying for it once they get admitted! This scandal might seem like something out of a Hollywood movie. After all, two actresses, Felicity Huffman and…
Jonathan continues to search for a diamond in the streaming rough.
Spike Lee held nothing back after the Oscars ceremony. His criticism of the Academy for their selection of "Green Book" as best picture included an astute observation that "every time someone's driving somebody I lose." This was a reference to the 1990 loss of his classic film "Do the Right Thing" to the pleasant and familiar "Driving Miss Daisy." Lee's 2018 film "BlacKkKlansman" was nominated for the top award this…
New Netflix series reminds us of a great talent that's been right under our noses for years.
The documentary category featured several glaring omissions. Jonathan shares his thoughts.
Jonathan gives his thoughts on what we might see nominated on Tuesday.
Watch the music video on Johnson's Vimeo account.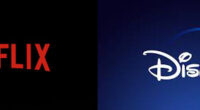 Disney takes on Netflix in 2019, but are they already too late to the party?