Read it before it hits print: Brilliant Blanchett delivers potent, icy performance
Ambitious historical fantasy features an all-star cast (Read it here before it's in print)
In print in metro Atlanta yesterday! Read this week's Film Fix online.
Bestselling German tome gets big screen adaptation. Mercy gives us her thoughts.
Steven Soderbergh shoots partially improvised film aboard a cruise ship
Michael Bay pandemic feature is empty
Netflix and Ryan Murphy adapt Broadway musical
Writer/director John Marco Lopez delivers ambitious epic crime indie
Doesn't have half the inspired comedic energy of 1995's "Tommy Boy"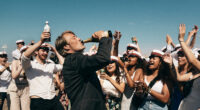 Denmark's Academy Award submission features the re-teaming of Vinterberg and Mikkelsen.