The demonologist Warren family face their biggest threat yet in third Annabelle film.
New documentary explores the first AIDS hospital ward in 1980s San Francisco.
Sienna Miller continues to do great work, but will anyone notice?
Our old friends and some new ones make us laugh in latest Pixar sequel.
Thompson and Hemsworth team up to wear the black suits in MIB reboot.
Caan and Hollander are a good team in Amanda Sthers' comedy/drama.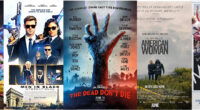 June 14Men in Black: International7 years have passed since the last "Men in Black" film. The franchise started back in 1997, when Will Smith and Tommy Lee Jones donned the distinctive black suits. And lot has changed since then, as comic book movies have changed summer blockbuster entertainment. This reboot has Marvel vets Chris Hemsworth and Tessa Thompson stepping into the black ties and employing all that crazy alien tech.…
New science fiction film combines a mixtape, monsters, and the end of the world.
Kenneth Branagh plays the great Bard.
Godzilla's gloriously back, but the story's weaker than ever.