Jonathan surveys small films in release over the holiday season.
There's a reason why Peter Jackson is not the director of this mess.
Jonathan gushes over the latest evolution in the Spider-Man universe.
The latest boy-in-peril film is the weakest of the bunch.
Jonathan survey's a couple of the more high-profile Netflix releases available this weekend.
Sweden's foreign language entry might be this year's most unusual film.
Sebastián Silva's dude-bro, rambling romp hits close to home.
Jonathan compares and contrasts the approaches of two very different filmmakers.
Alfonso Cuarón's first film since 2013's "Gravity" might be his best yet.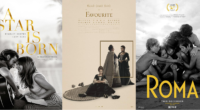 Read the AFCC press release. "The Favourite" continues its awards season momentum.