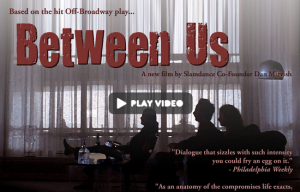 Dan Mirvish is one of the founders of the Slamdance Film Festival. He's also a fine filmmaker. Years ago, he joined me on my old radio show to talk about his indie musical "Open House." And when I spend any time in Park City in January, I drop in at the Slamdance headquarters to pay my respects.
Well, his latest venture is bringing an Off-Broadway play called "Between Us" to the screen. After raising money in a successful Kickstarter campaign, they are about to begin production. While they are still seeking funds, Dan really need folks to help out. Below is the information that was sent to me via Facebook. If you want to be a part of something special (because Dan is a special filmmaker), read closely below. And watch Dan's clever Kickstarter video here: http://www.kickstarter.com/projects/844519392/between-us-dan-mirvishs-new-film-based-on-the-hit
FROM DAN MIRVISH as posted on Facebook:
Hey Everyone, we're finally making my new film, "Between Us" (based on the hit Off-Broadway play by Joe Hortua) – and now's the time to help out! I know a lot of you already contributed to our Kickstarter campaign (thanks!) and we should have the cast announcement in the next week.
Now the fun part! We start active pre-production on Monday, March 14 (tomorrow!), with principal photography starting May 3 – primarily in the LA ar…ea (though we'll have a couple days in NY probably the end of May). So if any of you want to volunteer yourselves, or have suggestions for other people, here's whom and what we're looking for:
CREW:
(At this stage, we do not have enough money to pay the crew. That might change in the next few weeks, but we shouldn't count on it. So why do it? Fun, experience, credit, a button, tiger blood, etc.) Here's who we need:
– UPM
– Production Designer
– 1st AD
– Production Coordinator
– Sound Mixer
– Location Manager/Scout
– Script Supervisor
– Visual Effects person (needed for pre-pro)
– Digital Imaging Tech / Assistant Editor
– MakeUp / Hair
– Wardrobe
– Editor (we have a few people in mind, but still looking)
– DP (we have a few already in mind, but still open to suggestions at the no-budget level)
– Production Assistants/Interns (no experience necessary; happy to give school credit if possible)
STUFF:
– Lights
– Locations:
– a huge house that looks like it's in the midwest
– a New York apartment interior (either a stage, or a real apartment)
– restaurant
– Insurance
– Payroll service
For those who want to find out more about the movie itself, our old Kickstarter page probably has the quickest description:
http://kck.st/btXxyU
And oh, yes, even though the Kickstarter campaign is over, we are still looking for more money – so if you are interested in investing, donating or contributing in any way, let me know.
Thanks for all your help!!!
Dan
For more information email producer Barry Hennessey at bhennessey77@mac.com
Please follow and like us: