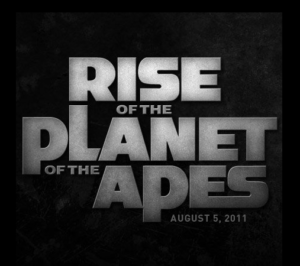 The Apes are coming back in August with "Rise of the Planet of the Apes," the latest re-imagining of the sci-fi classic. This time we get a prequel starring James Franco as a scientist who genetically alters an ape named Caesar ("Lord of the Rings" Andy Serkis with seamless CGI motion capture).
The very short clip from "Rise" that has been released online is ebedded below gives us very little to look at. What you do see is a creepy and convincing computer generated ape with some human like characteristics. The visual effects come from WETA Digital, the guys behind "Avatar," "The Lord of the Rings" trilogy, and "District 9." Serkis' Caesar is the first ape that leads to a devastating war of some kind. Greater details on the story have yet to be made officially available.
While no trailer is yet online, and the poster is very basic, a livestream event on Facebook has been planned for this Wednesday, April 13th, at 2:30PM PDT. The event will appear live on Facebook's official fan page for "Avatar," which has a whopping 14 million plus followers.
Visit the "Rise" Facebook page here: http://www.facebook.com/ApesWillRise
Watch the live event this Wednesday on Facebook: http://www.facebook.com/officialavatarmovie
The original "Planet of the Apes" was made back in 1968 and starred Charlton Heston, Roddy McDowall, and Kim Hunter. With its famous and controversial last scene the film sparked a number of sequels, a television series, and was remade in 2001 with Tim Burton at the helm. That attempt to recapture the ape magic was largely considered a failure. It was only a matter of time before the material was revisited. And in this era of high-concept remakes, fans can only hope that this reboot will properly rediscover that magic.
"Rise of the Planet of the Apes" opens wide on August 5, 2011, being billed as the last event film of the summer.
Please follow and like us: