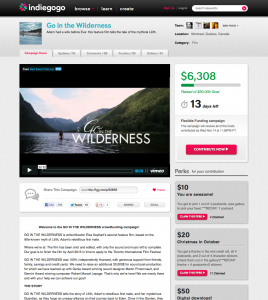 From a story of a zombie nurse seeking love to the tale of Lilith, the extra-Biblical first mate of Adam, writer/director Elza Kephart's latest project "Go in the Wilderness" is anything but ordinary. Back in 2004, I caught Kephart's first feature "Graveyard Alive" and found it a trippy indie experience. This time around, she explores the journey of Adam and Lilith as they travel from the wilderness back to Eden and into the Garden where they meet Eve. I assume that a wicked love triangle erupts.
Shot entirely outside in the wilds of Quebec, the footage I've seen looks very lush. Having already shot and even edit much of the film, Elza is seeking additional funding to complete post-production. You can contribute to her project and help complete this film by clicking here: http://www.indiegogo.com/Go-in-the-Wilderness
Elza Kephart from Bad Seed Pictures on Vimeo.
Please follow and like us: