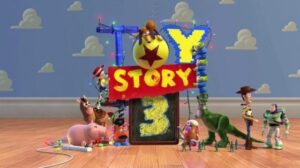 Dark in places and light and funny in others, this third and reportedly final TOY STORY film continues the Pixar hit tradition.
I'm not a student of the TOY STORY films, the first of which is now 15 years old.  The first TOY STORY, released in 1995, was the maiden voyage for Pixar marking the first fully computer-generated full-length feature film.  The second film was released in 1999 and again last year in 3D.  TOY STORY 3 is Pixar's first IMAX release.  So, dig deep fathers, your little ones will want to see this one not only in 3D, but surely in the IMAX 3D variety.
TOY STORY 3 picks up years after the second film.  Andy, the boy in the first two movies, is now going off to college and the remaining toys have not been played with in a long time.  Woody, Buzz Lightyear, Jessie, Mr. and Mrs. Potato Head, Slinky Dog, Rex, Hamm , Barbie and others return with new concerns as Andy prepares to leave his childhood home for a dorm room.  Woody reassures his fellow toys that Andy will take care of them—a nice, safe, warm attic awaits.   But Buzz and the others are not so sure and they fear the presence of garbage bags.
In time, the toys find themselves mistakenly donated to a local day care.  This is where the story goes from sentimental to dark and even a little scary.  The day care is ruled by a grandfatherly stuffed bear named Lotso (voiced very well by Ned Beatty).  Initially, the day care appears to be a wonderful place for the toys.  Lotso explains that since the children are constantly rotating through the day care, the toys will always be played with and there will be no heartache.  But the toys quickly learn that the utopia they believe they've found is anything but a paradise.
This TOY STORY entry can be playful and entertaining in the same way that CARS charmed young viewers.  But the political dynamic of the day care adds sophisticated elements to the narrative, which will help draw in older audiences.  Since TOY STORY fans are now more mature, I think that the "toy hell" description assigned the film by its director Lee Unkrich is entirely accurate.  But don't allow this to put you off, there are more than enough touching moments to balance out the intense and scary ones.
Commenting eloquently on the relationship that children have with toys, TOY STORY 3 might feel a little dated.  In our current society, toys have a very short shelf life, as children trade the old ones for the new trend.  In this process of constantly upgrading kids' appreciation for what they have is often lost.  I think that the comment here on childhood isn't an ode to consumerism and materialism, rather, the TOY STORY films, particularly this one, want us to focus on the emotional connections to the toys and the growth of imagination flowing therefrom.  TOY STORY 3 opens with a whimsical sequence in which a young Andy plays with his toys putting them into a grand adventure.  It's not the toys, those bits of plastic and fabric, but the memories evoked by their presence that remain most important.
Funny and thought provoking, TOY STORY 3 will remind us of a time when toys took us places and taught us life lessons.
Please follow and like us: