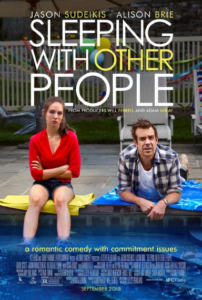 The once sweet and entertaining romantic comedy has devolved into box office vulgarity. Ever since the Farrelly Brothers struck comedic gold with 'There's Something About Mary,' the coarsening of mainstream romance at the movies seems unending. And the process of one-upmanship appears to be accelerating.
Enter 'Sleeping With Other People,' an adult-focused rom-com from writer/director Leslye Headland ('Bachelorette') that tries on many different tones, not all of them comedic or even romantic. And the uneven effort is one that should be lauded. Headland is attempting to transform the genre while still working within many of its central conceits.
The story in 'Sleeping' spans many years and concerns the odd relationship of Lainey and Jake. They meet in college. Lainey (Alison Brie) is a love-sick kid faced with the prospect that her beloved Matthew (Adam Scott) is taking her affection and doesn't feel the same way she feels about him. The idealistic and naive Jake (Jason Sudeikis) comes to the rescue. Lainey and Jake hook up and then never see each other again for years. Flash forward to the present and Jake has become a major womanizer and Lainey is still devoted to Matthew. The problem is, even after all this time, Matthew is still using her.
A chance meeting between Jake and Lainey brings them back together. The two broken souls try friendship this time around with an artificial relationship that winks notably toward 'When Harry Met Sally.' But we know that there's something brewing between them – a smoldering romance, albeit Platonic love, is festering.
Is this a romantic comedy or something else?
'Sleeping With Other People' is romantic sexual neo-noir classically cast with the theme of resistance to temptation but ultimately falling prey to it. Ironically, even though no one dies or is violently murdered in 'Sleeping,' the stakes are as high as anything from the noir canon dating back to when Fred MacMurray was tempted by Barbara Stanwyck in 'Double Indemnity,' the genre banner of which was carried forward marvelously by the Coen Brothers, particularly in 'Blood Simple.'
Sex and love and dolls and dames are as dangerous as gats and bullets. Just ask Bogie. At the heart is often a man and a woman and another getting in the way. But whether it's Ed Sheeran lamenting beautifully about being jilted by Elle Goulding, or Michael Jackson trying to explain why he's been trapped by Dirty Diana, the love/ lust minefield is impossible to navigate without losing something. Finding the special 'it' takes self-esteem and luck. And sometimes it's enough to have that moment with your Mrs. Jones as crooner Billy Paul made abundantly clear. And let us not forget the explicit nature of the affair that precipitates downfall as captured without apology by Alanis Morrisette, who warned us that we oughta know about the hell that lasts for some forever.
But thankfully, 'Sleeping with Other People' isn't so bleak. Jake and Lainey joke about 'The Graduate,' and a bus is visible to tease us during a critical moment. But there is hope in this film. And it's funny, at times, very funny. The comment the film makes about the interaction between sex and true love is more fundamentally genuine than most of the other films of this nature in recent years. Jason Sudeikis and Alison Brie make an eclectic but damaged couple who might find a fix if they can figure out a way to stay together whether the times are good or bad, happy or sad.
Please follow and like us: