The awards season is coming into focus.  Over the next two months, critics, including this one, will find their inboxes full as distributors and studios try to get the word out about their particular film.
Of the films I've received thus far, Hsiao-Hsien Hou's "The Assassin" is the kind of lush cinematic experience that cineaste's relish.  As Taiwan's selection for the best foreign language film Oscar, it looks like a good bet for a nomination.
One of the other films that caught my attention was Sean Baker's Sundance darling "Tangerine." This tale of transgender prostitutes in LA takes the viewer into a world that few actually experience.  Shot on an iPhone 5S and using an anamorphic lens adapter, the visual scope adjusts as the narrative weaves and the camera tightens.  The energy and unusual nature of the story helps to make this one an interesting experiment that is likely to get Film Independent Spirit Award notice.
One thing that is surprising is that Disney may not be screening "Star Wars: Episode VII – The Force Awakens" for critics.  This strategy is usually taken by a distributor or studio that has no faith in the film fearing that likely bad reviews will hurt the movie's box office performance.  In this case, Disney, according to reports, is not screening the film early to prevent spoilers.
The 1977 original "Star Wars" was nominated for Best Picture and took home 6 Oscars.  And given the most recent trailer for "The Force Awakens," Disney has revealed quite a bit already.  Certain to be the biggest film of the year, it is unlikely that even scathing reviews would have any impact on attendance.  And spoilers? Not likely to matter that much either.  Fans will stand in long lines whether or not Luke is revealed as a villain or some other plot point is revealed in advance.
If you are a Netflix subscriber, I highly encourage readers to check out "Beasts of No Nation."  The film starring Idris Elba along side a host of first time actors led by the amazing Abraham Attah is harrowing and richly engaging.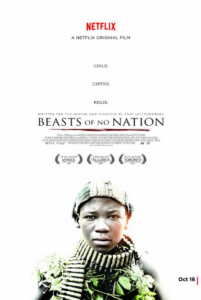 "Beasts" takes place in an unnamed country Western Africa.  Agu (Attah) lives a peaceful life with his family in their communal village.  His father is educated, loving, and giving to others.  When a military group arrives and kills his father and brother, Agu escapes only to be found by the Commandant (Elba).  Once made a part of the Commandant's child soldier unit, Agu rises as one of the Commandant's bodyguards and defenders.  But this relationship will likely have damaging consequences.
Told from Agu's point of view, filmmaker Cary Joji Fukunaga ("Sin Nombre," and "Jane Eyre") gives us an intimate look at the horror of employing children in warfare.  The indoctrination of Agu is hard to watch—it's violent and bloody.  Fukunaga smartly gives us enough of the visceral and vicious moments to draw us in so that we can appreciate Agu's impossible situation.  It is a significant film that will challenge and reward a patient and most discriminating viewer.
Whether Netflix will manage to get into the Oscar race is a question given their choice to just briefly release "Beasts" in theaters.  But with the film readily available online for anyone with a Netflix account to stream, voters have no reason not to consider the film for nominations.  Critics will no doubt consider it for their "best of" lists come December.
Please follow and like us: