Cementing Dwayne Johnson's box office might, "Rampage" managed to best sci-fi/horror carry over "A Quiet Place" last weekend with an estimated $34.5 million in box office.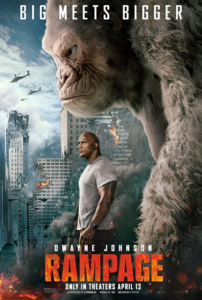 A surprising smash hit, "A Quiet Place" rang up a tidy $32.6 million in its second week of domestic US release. Sure to cross $100 million in US receipts sometime early this week, the John Krasinski/Emily Blunt project is likely to be one of the year's biggest successes given its reported $17 million budget.
Even though in my review I questioned whether "Truth or Dare" marked a decline in the house that Jason Blum built, it appears that horror, even cheesy and lackluster scares, can still connect to audiences. Ringing in $19.8 million, the film based on the game in the title has easily made back its $3.5 million budget. This means that Blumhouse has nothing to worry about.
Spielberg's "Ready Player One" continues to perform well coming in at number four last weekend with an estimated $11.2 million. While US domestic box office for the movie has been strong as it easily crossed the $100 million mark, foreign numbers have pushed the virtual reality narrative ever closer to the $500 million globally.
At number five, teen sex comedy "Blockers" made $10.2 million. I thought it looked terrible from the trailers, but apparently, I was completely wrong (note I've not, yet, seen it). Look for "Blockers" to continue to hang around for several more weeks.
Having expanded to almost 2000 theaters/screens, "Isle of Dogs" barked in $5 million at number seven, right below box office juggernaut "Black Panther." "Isle of Dogs" is really a wonderful film to experience on the big screen. Hopefully, it will continue to be seen in coming weeks.
This week releases include the somewhat maligned Amy Schumer comedy "I Feel Pretty," the long gestating sequel "Super Troopers 2," and the thriller "Traffik." The Schumer film has received some negative buzz for the concept about a woman who gets a bump on the head and believes that she's the most beautiful girl in the world. And "Super Troopers 2," the original for that one was released back in 2001. It has a following, but I have to admit that even though I saw it back then, and even probably wrote about it, I'll need to revisit it to refresh my recollection.
I'd say given the new releases, it is possible that "A Quiet Place" might climb back into the top spot or Johnson's monster film could certainly repeat. We shall see as reviews for new offerings come in later this week and audiences make their final decisions.
Please follow and like us: