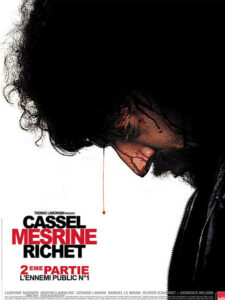 More action driven with a larger narrative than its predecessor, PUBLIC ENEMY #1 is an impressive closing chapter on the life of famed French gangster Jacques Mesrine.
Covering the second part of Mesrine's criminal existence, PUBLIC ENEMY #1 has a more complex structure than the foundational part one KILLER INSTINCT. Both films should be available now in US cinemas with the second concluding part opening this weekend. For those of you who haven't seen part one, Jacques Mesrine was a super criminal who began his career of terror in the late 1960s continuing to his violent death in 1979. This second part (not a sequel but a logical continuation of the first film) begins right where part one left off and just as Mesrine's campaign of crime and violence escalates.
And while PUBLIC ENEMY is more exciting than the first movie, it in no way makes the sloppy robberies Mesrine masterminds appear like fun. Instead, with each and every bank job or kidnapping, Mesrine and his ill-fated partners go through hell for a little bit of cash. What is explained a little better in this film is WHY. As Mesrine's fame grew so too did his penchant for more crime often culminating in violence. What is evident is that the money was always secondary, the thrill and the fame was the objective. At one point, an old man that Mesrine has kidnapped explains the difference between a gangster and a revolutionary. Mesrine makes light of the distinction that clearly puts him in the gangster category, but it is clear that there was nothing revolutionary about Mesrine's life. And anyone considering the crime game should watch these movies that serve as excellent cautionary tales. A legitimate job is definitely preferable to one in the gangster business.
Once again, Vincent Cassel plays the title character with a great amount of zeal. The charisma is infectious. And the script adds great depth to the character giving Cassel more range of emotion. A scene where one of Mesrine's children visits him in prison is especially affecting. This movie does not glamorize crime, but refreshingly gives us the truth of it.
Crime stories will always serve as the basis for feature films. And the criminals should be treated as criminals by the scripts. PUBLIC ENEMY #1 gives us a view of a criminal that isn't flattering, a look at a life worth observing to prevent repeating.
Please follow and like us: