When my daughter, Layla, realized that she could spend a Saturday as a journalist at the 2019 Atlanta Film Festival, she couldn't have been more thrilled. An aspiring filmmaker and actress, Layla read up on the festival and decided that we needed to watch the "Moments in The Multiverse" shorts program screening at the popular Plaza Theater on Ponce.

The Multiverse offerings, subtitled "Otherworldly Tales from Alternate Dimensions," featured a number of edgy science fiction stories. Here are my thoughts on the films:


Dominant Species
19 minutes
Director: Joseph Sackett


When aliens take over the bodies of ten human males, they must awkwardly learn how to be men. Basic activities are foreign to the visiting creatures, who are put through a series of training exercises by an entity known as Mother. We hear the disembodied voice of Mother as the training proceeds. Eating, dressing, moving around, understanding the new body, and, of course, sexuality are explored in humorous and sensitive ways.
As the group begins to form separate identities, one of them grows ever more uncomfortable in his assigned skin. A telling personal crisis erupts.
Written and directed by Joseph Sackett, "Dominant Species" made its debut at this year's Slamdance Film Festival in Park City, Utah. It's a lovely and simply shot film confined mostly to one large room. This short starts quirky and funny and ends with a comment that is rather profound. The audience was left giggling and contemplative.

Holy Moses
15 minutes
Director: Eli Powers


Taking place in the 1960s and then 25 years later, "Holy Moses" feels very much like a feature in utero. Writer/director Eli Powers, who was in attendance at the screening, hinted that a longer handling of the material may be in the offing.
The story has a pregnant nun (played by Amanda Seyfried) in 1960s Ireland coping with her unexplained condition and focusing much of her attention on one lone cow in a snow covered pasture. When the bovine miraculously disappears, the story cuts to an isolated Texas gas station 25 years later. The attendant, Justice (Philip Ettinger), is startled when the very same cow walks into his station. The mystery only deepens when other strange and miraculous events transpire. Is this the work of the Creator, or something else?
Expertly produced and performed, Powers' devilish narrative feels like something imagined by David Lynch. There's a bigger story to be told that would easily suit feature treatment. But as a short, "Holy Moses" is entertaining and intriguing.


The Masseuse
20 minutes
Director: Tan Ce Ding


In the future, humanoid robots have been fully integrated into daily life. A technician (played by Koe Shern) is dispatched to a massage parlor to tweak an android servant. The alluring robot (played by Candy Ice) is an older unit, but instantly stirs something within the young technician. As it becomes clear that the particular machine he's working on might be rendered obsolete, the technician decides to take drastic action.
Writer/director Tan Ce Ding has produced a classic science fiction story with a solid twist, but it is hard to overcome the genre limitations. Certain scenes involving the technician's relationship with his father are told in a frustrating flashback without dialogue. The goal is to keep motivations ambiguous in order to give the film's conclusion greater impact. However, I found this technique confusing and even lacking in credibility. Still, "The Masseuse" is a well-made short that feels very much like a compression of a larger narrative in hopes of selling the feature length version.


In Full Bloom
11 minutes
Director: Maegan Houang


Haunting and finely-crafted, "In Full Bloom" is a fantastic short. The story has an older Vietnamese woman named Cecile ("The Joy Luck Club's" Kieu Chinh), living a lonely life in her apartment surrounded by a large amount of collected items. She's billed as a hoarder, however, if you've ever watched an episode of reality television devoted to hoarding, Cecile's place is positively spotless by comparison. But it is clear that, in the wake of the passing of her husband, things have started to pile up. And she's hesitant to even leave her place and go outside.
One day, while tending to one of her many plants, she introduces three worms into a pot of soil. And when she leaves them alone, they work together with the assistance of a black hole that develops in the floor. It's into this hole that the worms decide to haul all of Cecile's prized possessions.
Chinh is excellent in a role that requires her to mostly react to a combination of stop-motion and practical effects. The worms are wonderfully animated, stop-motion creations and are really odd, which makes them both creepy and endearing. And the larger narrative theme here, exposing the positive power of letting go of things, plays out very well.
A true short film, writer/director Houang smartly makes it a self-contained story that shows her directing talents, but does not demand expanded handling. And the ambitious use of practicals should warm the hearts of filmmaking purists. In the Q&A, Houang told us of building the actual hole into which Cecile's possessions disappear. I want to see more of this style of filmmaking, and Houang seems well-positioned to helm these type movie experiments.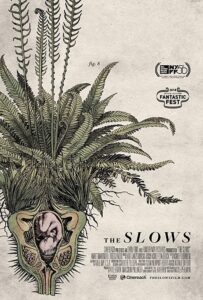 The Slows
22 minutes
Director: Nicole Perlman
One of the most clearly derivative of the shorts in this program has to be filmmaker Nicole Perlman's "The Slows." Feeling very much like an adaptation of a dystopian young adult novel, the future-set story has Eryn (Annet Mahendru) investigating a fringe group that are known as "The Slows." In the future, the enlightened aren't born traditionally and with amazing technology are accelerated through childhood in mere moments to achieve ideal maturity.
Eryn travels outside the safety of the enlighten's territory and visits a Slows encampment. Once there, she's taken with the children, sex, and the miracle of traditional childbirth. One character named Greta (Breeda Wool) offers her greater insight into the importance of the "slow" lifestyle.
Clearly meant to tease a feature, "The Slows" is rushed and disconnected. The concluding sequence is the highlight, but getting there might be frustrating for some, as the handling of the themes is heavy-handed and a bit preachy.
What Do You Know About the Water and the Moon
16 minutes
Director: Jian Luo
In the middle of an abortion, Yang (Yang Wang) strangely gives birth to a jellyfish. As she tries to understand the significance of this, we travel with her to the hospital and beyond. "What Do You Know About the Water and the Moon" isn't a comedy, but it subtly manages to pull something emotional out of the viewer without being overly explicit.
Presented in the 1:33:1 aspect ratio, this is a lovely looking film. The soft, dreamy images meld very well with the vagaries of the story. You'll want to know more when the film ends, as the mystery of the jellyfish, Yang's abortion, and where everything fits in is left in mystery.