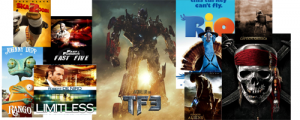 Even if you don't follow professional football and could have cared less about the outcome of the game on Sunday, the commercials successfully compete if not take center stage every year during the Super Bowl. And with YouTube, in recent years, we've been able to re-watch them without the distractions of copious amounts of alcohol. Movie trailers have become a big part of the institutional breaks between the athletic action. I counted at least 11 movie trailers or spots for movies opening this year.
Of all the trailers, my 9-year-old stepson was most keen on the spot "Super 8." He's been asking about this film since last year. The first teaser for the top secret film from director JJ Abrams ("Star Trek") and producer Steven Spielberg ran before "Iron Man 2." That little spot was especially cryptic giving us little more than a train wreck and the idea that something was trapped in one of the box cars. This time around we see much more. A kid is shown with a camera (presumably of the 8mm film variety) shooting something and something eventful takes place. During the resulting melee the camera is knocked over but continues to run, and according to what we can glean, the captures something significant, possibly dangerous on film. There is a haunting voice over warning that what was witnessed must never be spoken of. It is hard not to think of Spielberg's "Close Encounters" while watching the short trailer for "Super 8" but I found an interesting tidbit on Slashfilm.com pointing an interview that Mark Kermode did with Spielberg where there is talk about the train wreck in "The Greatest Show on Earth." While "Super 8" might not be about a terrible circus tragedy, it does evoke a similar ominous tone just from the trailer. We'll get to see the entire film, I hope, come June of this year. Expectations are very high for this one.
Although the buzz and anticipation may be somewhat muted for another "Pirates" adventure, I must say that the marketing campaign for "Pirates of the Caribbean: On Stranger Tides" smartly focuses on what all of us really care about: Johnny Depp. In the Super Bowl spot we see plenty of Depp in full Jack Sparrow mode. There's even a scene featuring a confrontation between Sparrow and Blackbeard (played by tough guy Brit Ian McShane). The story looks to have some familiar and fun elements complete with mermaids and even zombies! Note that this time around musical director Rob Marshall is directing, which could be a stroke of genius given the action ballet that these films often become. "Pirates 4" opens May 20th.
Speaking of Johnny Depp, he was seen in another super trailer offering this time in an animated form. The "Rango" spot had to have played more broadly than the kiddie appealing "Rio" that I talk about below. "Rango" opens in March and the producers, like those of "Pirates 4," are betting heavily on Depp's popularity. Perhaps they missed "The Tourist."
Probably the superhero offering of 2011 I'm most excited about is "Captain America: The First Avenger." The trailer used in the Super Bowl was TV spot number 1 and gives us a great look at the telling of Cap's origin. Set during WWII, the story is about Steve Rogers, a sickly guy who is deemed unfit for military service. But after volunteering for the super soldier program and dosed with that special serum, he emerges much improved and ready to defend the old stars and stripes. In the trailer, we see Tommy Lee Jones and Stanley Tucci in the cast, as well a quick peak at Hugo Weaving as Cap's nemesis The Red Skull. The action looks very unique with colors and costumes that take advantage of the period setting.
For those of you who don't know it, Captain America first appear in 1941 and had a good run up to the 1950s. But he was revived in 1964 in "The Avengers #4" going onto become the leader of the Avengers. Look for the film to end with some kind of plot device whereby Cap can make a resurgence in modern times. "Captain America: The First Avenger" spins onto screens in July.
The animated film "Rio" made a good showing with a fun looking spot that included lots of singing and dancing. A very colorful film that flies into theaters on April 15th, I posted a link last week to the first 2 minutes of the movie that have already been officially leaked. The Super Bowl spot contained a hidden code for viewers to use to unlock a level of the Angry Birds mobile device video game.
I'm not going to lie, "Fast Five" looks like great cheesy fun. And with the addition of Dwayne Johnson, I'm really looking forward to the continuation of this ridiculous street racing crime saga. The Super Bowl spot did not even try to hide the sexy exploitive appeal of the series opening with plenty of hard gyrating bodies and lots of macho posturing from its leads. And the big tease is whether the two bald action stars mix it up on screen. We'll see how much bigger the Rock is than Diesel come the end of April.
"Cowboys & Aliens" seems to be too good to be true. "Iron Man" director Jon Favreau brings a clever comic book to the screen with a dream cast. Bond-in-hiatus Daniel Craig leads Harrison Ford, Sam Rockwell, Clancy Brown, Keith Carradine and others in a Western about aliens from outer space. The high concept idea really has my interest and most folks I've talked to are jazzed to see Ford riding a horse and taking on an action role. Ford rides into your neighborhood theater in July.
My disinterest in the new "Thor" movie is unchanged even after watching the special effects laden spot on Sunday. I can't see this really working in a movie that takes the character deathly serious. Sure, the book was popular and did not play things for laughs, but I just think that the whole affair looks a bit too melodramatic and hammy to really suspend our disbelief. Even the presence of it-girl Natalie Portman and Anthony Hopkins can't convince me that "Thor" will end up being anything but an also ran superhero film in 2011. Maybe I'll be proved wrong when the movie thunders into metroplexes in May.
Flying under the radar was the trailer for the movie "Limitless." Starring Bradley Cooper and Robert De Niro, the movie has Cooper going from loser to winner after taking an experimental drug that gives him the ability to use all of his brain or something. A superior fantasy for any poor lug who's down on his luck, the film also has a chance to make a sophisticated satirical point about our nation's addiction to proscription medications. The thought hit me that a movie like this might say something about steroid use by athletes and even the use of drugs like Adderall by high school kids to score higher on their SATs. "Limitless" is directed by Neil Burger, the guy who first gave us the unnerving but smart "Interview with the Assassin" and the very good "The Illusionist" in 2006. The limit will be tested this March.
One of the more entertaining movie spots of the night had to be the "Kung Fu Panda" trailer that made great use of a certain hit Queen tune. Here's a hint, the song's title rhyme's with "Wok You!" The great thing about the first film was that it was really funny and through the use of Ian McShane's cold voice work even made us fear for a certain Panda's safety. The "Panda" sequel woks into theaters May.
Finally, we have the trailer "Transformers: Dark of the Moon." What can I say? Other than a new starlet, haven't we seen this kind of thing before? Too bad that the spot didn't contain an apology for the second film. Well, this time around we have another city in ruins and Sam Witwicky (Shia LaBeouf) is back to save the world through the use of his wit(?) and his strange relationship with talking alien robots that transform into cars. I heard Howard Stern today on the radio say how much hotter he thought the new Transformer girl (Rosie Huntington-Whiteley) was than Megan Fox. And while I'll reserve my judgment until July when I see the actual film, Fox has to be kicking herself for bowing out of another "Transformers" ever since "Jonah Hex" came and went quickly from theaters last year.
Please follow and like us: