The jokes fall flat, and the endearing cop duo retains little of the chemistry they shared in the '90s.
New American remake of J-Horror franchise is a curse
Jonathan weighs in on the final film in the new trilogy.
Can the sequel live up to its massive predecessor? Jonathan weighs in.
It returns, but does it continue the goodwill of the first film?
Denzel and Fuqua match the fist one in crowd-pleasing follow-up.
Kevin Bacon breaks bad news via Instagram, just as a new "Tremors" DVD drops.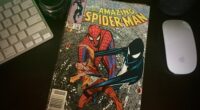 The new VENOM trailer explains a lot, and Netflix scores with bingeable LOST IN SPACE.
Jonathan laughs calling this a lame but sporadically funny sequel.
Jonathan's seen the sequel, but encourages readers to revisit the original in preparation for the new film.