It returns, but does it continue the goodwill of the first film?
Denzel and Fuqua match the fist one in crowd-pleasing follow-up.
Kevin Bacon breaks bad news via Instagram, just as a new "Tremors" DVD drops.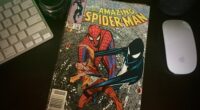 The new VENOM trailer explains a lot, and Netflix scores with bingeable LOST IN SPACE.
Jonathan laughs calling this a lame but sporadically funny sequel.
Jonathan's seen the sequel, but encourages readers to revisit the original in preparation for the new film.