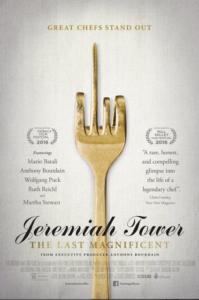 "Why cook one little octopus, when you could cook three or four and have it for a few days?" Jeremiah Tower muses during an interview.
Food pioneer Jeremiah Tower is handsomely profiled in CNN Films' new documentary "Jeremiah Tower: The Last Magnificent."  Featuring lush images and intimate conversations about the subject together with very personal narration by Tower himself, the film is a must see for gourmands and aspiring chefs.
The food was his entry point.  Tower's privileged upbringing was marred my an impersonal and detached relationship with his parents.  But one constant in his life was an endless access to unique cuisine.  And although he went on to study architecture at Harvard, his heart eventually led him to cook.  And once in the kitchen, Jeremiah Tower was an innovative genius.  His enduring intellect and ability, according to the experts interviewed, changed food forever.
The film combines archived materials together with dramatic recreations.  The line between the recreations and the archived footage is often seamless and not distracting or contrived.  It's really a lovely documentary both in look and narrative.  Luckily, the mercurial Tower, whose legend includes a romantic mysterious disappearance from the restaurant scene, opens up to the camera revealing some secrets.  The curious are rewarded.
Naturally, watching "Jeremiah Tower: The Last Magnificent" will make you hungry—if only we could be privileged enough to have partaken in his cooking during his first amazing runs.  For the rest of us, an enriching film like this might be an opportunity to see inside a world that cannot otherwise be experienced. The effect is inspiring and informative.
Please follow and like us: