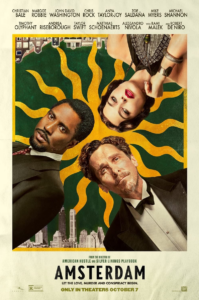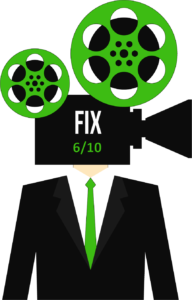 Film Details:
Director: David O. Russell
Cast: Christian Bale, Margot Robbie, John David Washington, Alessandro Nivola, Andrea Riseborough, Anya Taylor-Joy, Chris Rock, Matthias Schoenaerts, Michael Shannon, Mike Myers, Timothy Olyphant, Zoe Saldana, Rami Malek, and Taylor Swift, with Robert De Niro
Running Time: 2 hours, 14 minutes
MPAA rating: R
Available in wide theatrical release


Complicated and likely misunderstood filmmaker David O. Russell has a lot to say in his new film, "Amsterdam," and his swirling cacophony of disparate ideas is too much for one movie. But that doesn't keep it from being a flawed, subversive, and sometimes beautiful viewing experience.
Complicated and likely misunderstood filmmaker David O. Russell has a lot to say in his new film, "Amsterdam," and his swirling cacophony of disparate ideas is too much for one movie. But that doesn't keep it from being a flawed, subversive, and sometimes beautiful viewing experience.
Reports of Russell's conduct on and off movie sets have him on the edge of becoming the next persona non grata in the film world. Googling him will send you down a rabbit hole highlighting the time he and actress Lily Tomlin got into a profane shouting match behind the scenes on 2004's "I Heart Huckabees." This exchange, which will haunt the director forever, is the trainwreck poster child for how not to direct actors and how not to behave in general.
And, yet, somehow, Russell survives in the industry, producing his best films after the Tomlin fiasco and working with the biggest names in Hollywood. The reason for his continued success is a combination of loyalty and talent.


Actor Christian Bale, who stars in "Amsterdam" as a tortured WWI doctor named Burt Berendsen, arguably owes a lot to Russell. After all, Bale won a Best Supporting Actor Oscar for his portrayal of an addict boxer in 2010's "The Fighter." And his award-worthy relationship with the director continued with 2013's "American Hustle."
Russell makes entertaining movies that get nominated and win big awards. And despite his somewhat unsavory reputation, major Hollywood talent embraces the Russell brand of off-kilter reimagining of America's awkward past.
And in keeping with the Russell docudrama approach to storytelling, many historical facts are mixed into crude fiction in "Amsterdam." It's a story about three diverse friends that form a pact in, you guessed it, Amsterdam in the waning years of the first world war. That bond is at the heart of a story about racism, politics, and the rise of fascism. You can't fault Russell for his sweeping ambition, even if his reach far exceeds his film's grasp.
"Amsterdam" is told in two time periods. The first is in the 1930s. Burt runs a doctor's office in uptown New York, where he treats the poor and attempts to relieve the pain of military veterans. He served in the war to end all wars, an experience that left him heavily scarred and suffering from crippling back problems.
Burt's commitment to experimental drugs has also taken its toll on his mind and body. This "research" into pain management led to scrapes with the law and contributed to his estrangement from his wife Beatrice (Andrea Riseborough). Her upper-crust family never embraced their daughter's half-Catholic, half-Jewish husband. Burt's conflict with Beatrice's mother and domineering father led him to enlist in the US military and serve on the battlefield.
While in WWI, he was recruited by General Bill Meekins (a placid, straight-man performance by Ed Begley, Jr.) to take over a regiment of African American soldiers. Racism in the forces left the troop without a commander, and the fair-minded Burt accepted the duty only after making peace with the group's de facto leader Harold Woodman (another great turn by John David Washington).


But when the two men are horribly injured and sent to a French-speaking hospital, they are cared for by a comely nurse named Valerie (Margot Robbie). Perhaps, picking up on their mutual love for one another, Valerie takes a keen interest in repairing the men's broken bodies.
In removing tiny shrapnel fragments, she carefully collects the shards for personal reasons she eventually shares with her new friends. A third person is therefore added to the "pact." It's a friendship that will endure.
In the 1930s, Harold and Burt became embroiled in an investigation that could result in their arrest for murder. Their client, Liz Meekins (Taylor Swift in excellent form), may be right that her dear father, General Meekins, was murdered. But unraveling the mystery and solving the crime will lead them to some very powerful people who admit wrongdoing aloud without concern that they will be prosecuted.
"Amsterdam" introduces its provocative narrative in a fast-paced first half that promises a significant, profound conclusion. Unfortunately, the concluding third is rushed and brings the various threads together in an all too convenient package. The loads of exposition packed into the film's last 10 or 15 minutes will have your head spinning.
The historical fact upon which Russell has based his script certainly has a connection to our modern political landscape. However, the heavy-handed presentation of his ideas and condemnations will divide audiences. No right-thinking person endorses fascism and authoritarian rule. However, Russell's film lacks nuance in a way that delivers mustache-twilling villains that are thwarted by good-hearted progressives.
Of course, Russell tries to temper his fantasy elements with a dose of harsh reality as Burt explains their investigative efforts' ultimate, sad results. And the theme that history repeats itself is never unworthy of mention. In the closing credits, we see actual film of one of the movie's real-life inspirations that may educate and give viewers some pause.


The film's performances could garner awards notice. Bale once again twists and contorts his body, wearing an uncomfortable back brace and bearing disfiguring scars. It's an unflattering look for the handsome actor who once embodied the hero, Batman.
Washington and Robbie have good chemistry as a couple that finds love in Amsterdam but can't realize those emotions publicly in the United States. However, in the film's closing act, that realistic idea is jettisoned, putting the two together at a gala event in a way that defies explanation.
Robert De Niro, another actor who has worked with Russell in the past, appears in a critical role that helps to boost the film's second half. He's given a lot of screen time that might get him awards notice, especially in the film's zany, comical, action-packed final moments.
"Amsterdam" is a weaker entry in the Russell canon. However, it's a film filled with rich and controversial ideas that warrant discussion. I came away thinking.
Inspiring thought and reflection are what Russell naturally wants, but I wondered if he were given a larger canvas on which to explore his ideas if that might have solved the problems in his closing act. Maybe his next project should be serialized on the small screen.