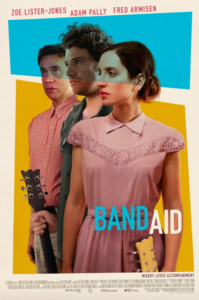 It's an endless argument, one that often starts with the dirty dishes soaking in the sink. But it's about so much more—a symptom. And when Anna and Ben put their disputes to music, their relationship reaches a breaking point.
Some films just get under my skin, making me feel all itchy and downright uncomfortable. Anyone who's been married or in a long term relationship knows full well that there are times when you just can't stand the person you're with. I'd go so far as to say you abhor, at times, your significant other. Inevitably, this leads either to silence or endless argument. But can this angst be channeled into something artful? Could it even be funny?
In "Band Aid," writer/director/star Zoe Lister-Jones has a good handle on the rhythms that gird a flagging relationship. And this means her cathartic, comedic Sundance hit will also hit very close to home. One scene in particular painfully captures a moment when two people are broken beyond repair. But living with that brokenness is what it means to be in a relationship.
A dark romantic comedy set to song, this biting look at young marital strife is the brainchild of comedian Lister-Jones. "Band Aid" starts out funny and light but quickly gets heavy and important as Anna (Lister-Jones) and Ben ("The Mindy Project's" Adam Pally) try to repair their damaged marriage by starting a band. They are reeling from miscarriage, but other issues plague them daily. By writing and performing songs that start as martial quarrels, we get an often frustrating combination of drama and comedy.
Anna and Ben's quarrels are tedious, as they focus on the small things that drive them bonkers. Thus, we get a song about dirty dishes in the sink and other mundane struggles. It is real and certainly connective.
Other bits of comedy are less emotionally impactful but none-the-less funny. In "Band Aid," SNL alum Fred Armisen channels the type of odd, pinched character that he's had luck with on "Portlandia" by playing Ben and Anna's wacky next door neighbor who joins the band as the drummer. The unusual voice of reason, Armisen feels very much lifted from another film, as he plays a sex addict, who seems remarkably well-adjusted. Every scene he's in is funny, which is a testament to Armisen's magnetic weirdness, but it distracts from the central relationship.
What is very clear is that Lister-Jones is a triple threat. By writing, directing and starring here, the success of this project ultimately rises or falls at her feet. And to be sure, "Band Aid" is a success. This is a film that is perfect for indie film lovers who are fans of movies like "Obvious Child." And like Jenny Slate, who became a star playing the tortured Donna Stern in "Child," Lister-Jones should be given another chance to stretch her sardonic comedy muscles after "Band Aid."
While it got under my skin and grated on my last frayed relationship nerve, "Band Aid" offers viewers a way to laugh at a failing marriage while also gnashing your teeth in frustration.
Please follow and like us: