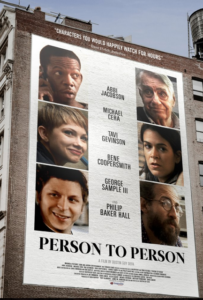 With a title like "Person to Person" you'd expect the narrative to feature several different storylines focusing on multiple characters. And that is exactly what writer/director Dustin Guy Defa ("Swim Little Fish Swim") gives us with his organic New York based ensemble.
Feeling very much a part of the early Woody Allen school, the film follows several disconnected characters as they go through their paces on single day. One story has Michael Cera playing a newspaper reporter who shepherds for his own selfish reasons a new reporter played by Abbi Jacobson. They're investigating a possible murder. The potential murderer has taken the alleged victim's broken wristwatch to a watch repairer played by Philip Baker Hall.
And in another story real life record collection expert Bene Coopersmith plays an easy-going version of himself as he helps his friend Ray (George Sample, III) recover after being dumped by his girlfriend. Finally, Tavi Gevinson plays a youngster struggling with her sexuality as she hangs out with friends.
An organic narrative that might feature improvised dialogue but never seems false, "Person to Person" carves out an easily listening vibe as the various stories unfold. The stand-out here is the laid back Coopersmith, whose jazzy approach to his role, no doubt influenced by his own personality, makes you instantly interested in whatever it is that he's doing.
"Person to Person" is a low key drama that keeps you watching. Look for it in limited release in Atlanta this weekend.
Please follow and like us: