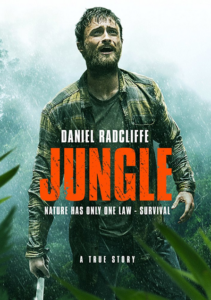 In "Jungle," Daniel Radcliffe plays a guy who has to slice open his forehead and pull out a creature that's embedded itself in a wound. This is a movie that starts with a story about a rainforest immersion experience but becomes a harrowing and horrifying tale of survival. Based on a true story, it's an effective, inspiring bit of endurance cinema.
And did I say it stars Radcliffe? It is hard to contain my enthusiasm when I see his name attached to a film. He's just terrific! Terrific in everything. And even though Radcliffe's been uniformly snubbed by the Oscars, Tonys, and Emmys, he continues to do great work. In "Jungle," he plays Yossi Ghinsberg, a role that suits his relatable qualities perfectly. And like his surprising turn in last year's "Imperium," this is another performance in the win column for the award-less but award-worthy thespian.
Based on the best-selling memoir by Yossi Ghinsberg, "Jungle" tells a traumatic adventure story set in the Bolivian jungle. In 1981, against his parents wishes, Yossi, who was obviously filled with romantic notions, left home to spend time in a foreign land. And initially, he finds Bolivia to be a paradise. Quickly making friends, Yossi joins photographer Kevin (Alex Russell) and Marcus (Joel Jackson) on a perilous mission to search for gold in the rainforest. The three young men aren't necessarily seeking fortune, but they desperately want to quench their thirst for a real and risky immersive experience. And to that end, they decide to hire the mysterious Karl (Thomas Kretschmann) to take them deeper into the jungle where safety is in question.
But after hiking for a couple days, Karl's actions become more and more suspect, and when Marcus can't walk at a reasonable speed, the group is faced with painful decisions. Just escaping the jungle becomes a daunting task, but as their relationships fray, they may fear one another more than any indigenous beast.
Although the hero of the film may be Kevin, this is Yossi's movie. Once Yossi is alone in the jungle, the focus is on what he must do to survive. The narrative carefully documents his efforts as he struggles to find food and to avoid the forest dangers. It's not for the squeamish, but the gritty, realistic nature of the story sets it apart from other survival films.
Directed by Greg McLean ("The Belko Experiment"), "Jungle" continues his flavor of masculine story-telling that focuses on visceral displays of violence. But this violence appropriately mirrors the theme of man vs. nature. While ultimately uplifting, the grueling events wear the viewer down. After watching "Jungle," I want nothing to do with an authentic, immersive rainforest adventure. This might not be the best movie to promote Bolivian adventure travel packages.
Returning to Radcliffe, I have to say that his choices as an actor are so varied and his commitment to winning us over with really good work is so genuine, I can't wait to see what he does next. I'd watch this guy in just about anything, even if, as here, he's forced to do horrible things just to stay alive.
Please follow and like us: