Jonathan begins a rolling discussion concerning the difference between "content" and "cinema."
Does "Solo's" relative box office failure hints at the future of the franchise?
Clips include behind the scenes on "Early Man" and a training montage segment from "Red Sparrow."
Jonathan considers Donald Glover's moment.
Kevin Bacon breaks bad news via Instagram, just as a new "Tremors" DVD drops.
What does "Infinity War's" record box office mean for Marvel in 2018?
BOY ERASED is being lensed in Atlanta.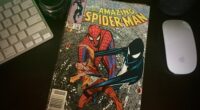 The new VENOM trailer explains a lot, and Netflix scores with bingeable LOST IN SPACE.
The Broken Lizard guys are all smiles after their film over-performed this weekend.
Mel Gibson and Frank Grillo step into a film that sounds like an action driven GROUNDHOG DAY.