As long as prickly people are entertaining, most of their irritating foibles are forgiven by friends – and fans, if they are famous.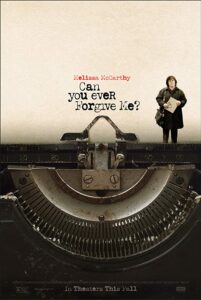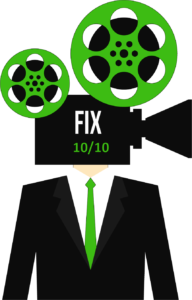 Celebrity biographer Lee Israel was pricklier than most.  Always socially awkward, at 51, she had squandered friendships, mistreated lovers, and couldn't stop bullying her exasperated agent.
When a book deal collapsed, Israel went from respectable bestseller writer to legal proofreader, to welfare recipient, all in a very short time.  She was behind on the rent, her cat was dying, her few friends were gone.  Bag-ladyhood beckoned.
Almost instinctively, Lee Israel turned to crime.  In the years 1991-92, she wrote more than 300 fake celebrity letters (150 from Noel Coward!) and sold them to memorabilia and autograph dealers across the country.
As a journalist and biographer she was used to extensive research, and unquestionably possessed a talent for identifying with subjects she admired.  Louise Brooks, Humphrey Bogart, Lillian Hellman, and Dorothy Parker, her favorite, were glamorous personas for Israel to try on.
In doing this, she regained her passion for writing.
In "Can You Ever Forgive Me –  Memoirs of a Literary Forger," Lee Israel sums up her criminal enterprise this way: "The forged letters were larky and fun and totally cool… They totaled approximately 100,000 words, give or take. A quantitation falling somewhere between Madame Bovary and Madame X – not bad for less than two years work. I still consider the letters to be my best work.  Reminiscent of Dustin Hoffman's summing up in Tootsie, I was a better writer as a forger than I had ever been as a writer."
Lee Israel and her charming memoir – it's only 127 pages – would probably be forgotten today if not for screenwriters Nicole Holofcener and Jeff Whitty, director Marielle Heller, and the wondrous Melissa McCarthy who stars as the accidental forger in the movie "Can You Ever Forgive Me?"
The Melissa McCarthy we know from "Bridesmaids," "SNL" and other comedic classics is nowhere to be seen here.  You have to LOOK for the actress, period.  What you see is her character, a negative force of life that nevertheless beguiles from the first moment you see her to the last.
This Lee Israel is not an easy person to like. You feel for her agent Marjorie (Jane Curtain), who's HAD it and seethes at her entitled author, "You can be an asshole if you're famous. You can't be unknown and be such a bitch, Lee… I suggest you find another way to make a living."
In the movie, relationships seem impossible. A dinner with a bookseller could lead somewhere but doesn't; an encounter with an old lover (Anna Deavere Smith) explains why.  The temporary partnership with fellow-misfit Jack Hock (a touching Richard E. Grant) is rooted in liquor and lucre  –  Israel needs an extra provenance wrangler when her many bookshop visits get noticed by the FBI.
When men play misanthropes, their grouchiness usually dissolves into something sweet and gooey in the last reel. Lee is thankfully allowed to stay tart and bitter AND hysterically funny.
Nicole Holofcener is known for her spot-on portraits of dissatisfied contemporary women who are slim and dress well ("Lovely and Amazing," "Friends With Money," "Please Give," "Enough Said").  Lee Israel was anything but, and she wasn't just a little bit unhappy, she was as depressed as only a failed writer can be.
A less skillful comedienne might have been tempted to go to town with Israel, but Melissa McCarthy knows better.  She respects the character she plays, and with small, incisive means she brings forth a woman who deserves to be remembered, even if she was a thief, a forger, and a backstabber.  (In an early scene, when Israel is mistakenly invited to a party for successful authors, she leaves in a better coat than the one she arrived in, pockets stuffed  with shrimp.)
Lee and Jack often hung out in seedy bars on New York's Upper West Side, and these scenes are infused with a smooth, jazzy score by Nate Heller, brother of the director.
The caustic dialogue in "Can You Ever Forgive Me" is more 2018 than 1990s, but it is so snappily delivered, it fits the movie perfectly.
Please follow and like us: