"Roma" leads the list of winners.
Jonathan surveys small films in release over the holiday season.
Jonathan survey's a couple of the more high-profile Netflix releases available this weekend.
Jonathan compares and contrasts the approaches of two very different filmmakers.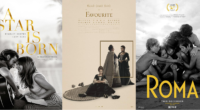 Read the AFCC press release. "The Favourite" continues its awards season momentum.
Producer and writer Hogue discusses her very personal take on the zombie genre.
Exploring love in 8 seconds, the Gondry brothers deliver 6 very, very short films.
Jonathan begins a rolling discussion concerning the difference between "content" and "cinema."
Does "Solo's" relative box office failure hints at the future of the franchise?
Clips include behind the scenes on "Early Man" and a training montage segment from "Red Sparrow."