Documentary chronicles seven years in the life of a comedian in personal crisis.
Documentary chronicles efforts to scale back excessive prison sentences.
Can science and Buddhist philosophy co-exist?
Paul Solet's new documentary plays like a taut thriller.
Safe Tribute Celebrates Prickly Film Critic
New documentary revisits infamous 1969 free concert
Dance documentary profiled dance icon
Shot on smartphones, film takes us inside a refugee crisis.
Mercy thinks the timing is perfect for this documentary.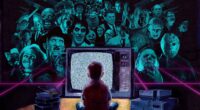 A must for collectors, new marathon documentary deep dives into the decade that horror came alive.