Crime/thriller fails to capitalize on it dramatic elements.
Samuel L. Jackson and Anthony Mackie star in Apple's historical drama.
Russian film looks at women in the aftermath of WWII.
Jonathan stuggles to find a purpose for this remake.
Writer/director Kitty Green tackles the Hollywood culture of sexual abuse from a perspective seldom seen – the enablers.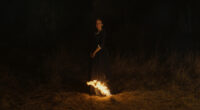 French period drama is painterly tale of forbidden romance
Oscar nominee from France is exciting cop thriller with social import.
In her review, Mercy tells us, "your eyes see Tom Hanks, but your heart feels Mr. Rogers."
Trey Edward Shults wrestles once again with the family dynamic.
See it in theaters before it hits Netflix.