Read it before it hits print: Brilliant Blanchett delivers potent, icy performance
Ambitious historical fantasy features an all-star cast (Read it here before it's in print)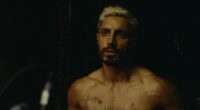 Sensitive heavy-metal story resonates
Bleak Czech drama isn't for everyone
Pete Davidson's life serves as the inspiration for heartfelt drama.
Crime/thriller fails to capitalize on it dramatic elements.
Samuel L. Jackson and Anthony Mackie star in Apple's historical drama.
Russian film looks at women in the aftermath of WWII.
Jonathan stuggles to find a purpose for this remake.
Writer/director Kitty Green tackles the Hollywood culture of sexual abuse from a perspective seldom seen – the enablers.