Bong Joon Ho's new film asks how far you'd go for your family in the "gig" economy.
Delayed film gets a makeover and wide release with "director's cut."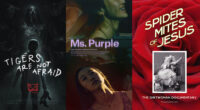 Reviews of Tigers are not Afraid; Ms. Purple; and Spider Mites of Jesus.
J-Lo and Wu make a really good team.
Writer/director Tre Manchester returns with gritty teen drama.
Mercy finds many nagging questions lurking in Linklater's latest.
Emma Forrest directing debut knows its subject intimately.
Alfonso Cuarón's first film since 2013's Gravity might be his best yet.
Close and Pryce are at the top of their game in taut, provocative drama.
Daniela Vega is a revelation in Chile's Oscar Contender