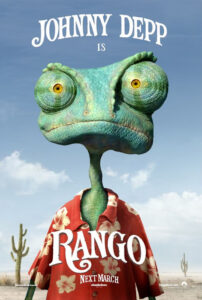 If ever there was an animated film made for film critics, "Rango" is it. With its references to classic spaghetti westerns, Johnny Depp films, and "Chinatown," most critics have reason to cheer. But figuring out who else the movie is for is a little more complicated.
"Rango" is about a lonely pet lizard who becomes marooned in the desert. Rango, as he eventually calls himself, has spent most of his life in a fish tank with only a broken Barbie doll and a wind up fish as companions. But when he is released into the wilds of the arid desert by accident, Rango is forced to interact with other creatures. This leads him to a western set town suitably named Dirt, where a fight over water threatens the lives of the remaining inhabitants.
The setting and characters in "Rango" have all been borrowed from other movies. And the story is complex and convoluted but has, at its core, Roman Polanski's "Chinatown." A character, identified as the mayor (and voiced by Ned Beatty), adopts the role of Noah Cross originally played by John Huston in the 1974 Oscar winning film. The subject matter is mature, involving life and death issues, which might be troublesome for younger viewers. Certainly, the dense plot will mostly go over the heads of kids and even confuse some adults.
Clearly, an existential journey is being taken by Rango, complete with visions and what seem to be dream sequences. What is ultimately confusing is where the line dividing "reality" from "fiction" is drawn. Since it is blurred almost to infinity, I found myself bothered as the movie concludes. Just what is going on in "Rango?" And should we care?
"Rango" is an extremely well-made film. Folks have been suggesting that this might be the film that seriously challenges Pixar in the animation department. And, frankly, there is no argument there—"Rango" looks great. But the inevitable comparisons to "The Fantastic Mr. Fox" are misplaced. Sure, the narrative is mature and really hip, but the sheer craftsmanship involved in making "Fox," a stop-motion extravaganza, had to be far more intense. "Rango" reportedly uses a combination of motion-capture and computer animated techniques. I don't want to diminish the good work put into "Rango," but animation purists don't consider motion-capture films to be animation. While I disagree with that premise, I wish that more films would be made in the "Fox" mold.
Johnny Depp is his own studio these days. With the exception of last year's "The Tourist," his name is all that is needed to ensure solid box office returns. But often the only way a Depp performance works is if he is playing some kind of fantastic character. In "The Tourist" he played it mostly straight and few decided to watch. His voice and motion-capture acting talents are on full display in "Rango." And without Depp, working here once again with "Pirates of the Caribbean" director Gore Verbinski, "Rango" would be much less successful. And while I admire so much about this movie, I just can't recommend it as a family film and would only suggest it to a very narrow segment of the public who would consider themselves film geeks.
"Rango" is a movie that mostly film critics will love.
Please follow and like us: