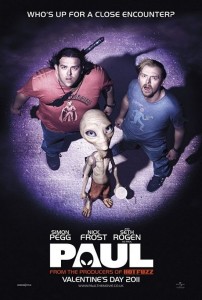 Slacker actor Seth Rogen makes one good slacker alien in "Paul," a film that reunites the British comedy team of Simon Pegg and Nick Frost. And while Pegg and Frost have been better, "Paul" is still good for a few laughs.
Two English comic book nerds, Graeme Willy (Pegg) and Clive Gollings (Frost), visit America and attend the Comic Con in San Diego. From there they rent an RV and embark on a sightseeing trip, which includes famous extraterrestrial landing locations like Area 51. But one evening they find themselves face-to-face with an actual space man, of the little greenish variety. The space man calls himself Paul, and he's unlike any alien we've seen on screen before. He's a slacker perfectly voiced by Seth Rogen, and like E.T. himself, he's trying to get home.
A trippy road trip movie, "Paul" is funny stuff so long as it concentrates on the likeable comic duo and their unearthly new friend. The supporting cast is fine with the likes of Kristen Wiig, Jane Lynch, David Koechner, Jason Bateman and others. And we even hear from the real Steven Spielberg in the film! The cameos don't end there and "Paul" makes good use of references to other science fiction films. Like, have you ever heard of a movie called "Mac and Me?" Well, obscure references abound in "Paul." And by the way, the "Mac" in the title to that 1988 flick stands for Mysterious Alien Creature not for anything Apple may have produced. There's a joke there somewhere.
Pegg and Frost make a formidable comic team. Their past successes have been under the direction of fellow Brit Edgar Wright. With Wright's help, "Shaun of the Dead" has gained cult and future iconic status in the pantheon of zombie movies. It was credited with making the zombie movie funny, ushering in a herd of comic zombie pictures. But also under Wright's watchful eye, Frost and Pegg spoofed another genre that of the cop buddy film with "Hot Fuzz" back in 2007. That film was arguably better than "Shaun" mainly because it was more than a collection of funny bits and contained a more complex story.
But with "Paul" Pegg and Frost have taken up with a new director, Greg Mattola, the guy who hit it big with "Superbad." And while the script is from Frost and Pegg, the pacing is not nearly as sharp as previous efforts. Maybe this is the writing, but Mattola has worked with road picture type material before with "Superbad," a movie that basically sends its three protagonists all over town for one crazy and memorable night. And where "Superbad" built its energy and sustained it as the situation around the central characters became more and more unhinged, "Paul's" story lulls down early. As the movie draws to a close, the jokes become little more than giggle inducing mild amusement. There's no big joke ending here and that is a little refreshing in a way but may be a let down to some viewers. Compare "Hall Pass" a few weeks ago where the funniest bits came later in the film helping to make it entertaining even when the story wasn't working.
Of course, "Paul" is certainly worth seeing. And it is darned funny, just not the next classic from one of the best comic pairs working today. But if "Paul" is an example of a down entry, Pegg and Frost should have a long and hilarious future together.
Please follow and like us: