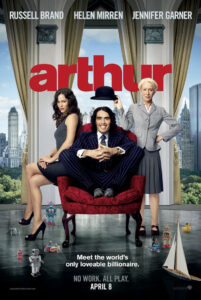 Alcoholism has rarely looked as fun and glamorous as it does in "Arthur," the remake of the 1981 hit starring Dudley Moore. In this bigger re-telling of the tale, Arthur Bach is played by Russell Brand another rising comedian from across the big pond. And what could have helped a career already on the way up, "Arthur (2011)" will do little to endear U.S. audiences to the Brand brand of humor.
Like the film that came before it, "Arthur" follows a decadent and rich alcoholic living in NYC. His exploits while under the influence are legendary. We meet Arthur in the film's opening sequence dressed in a full Batman costume. His dutiful limo driver, Bitterman (Luis Guzmán), dons the Robin garb. In a completely flat opening stretch, Arthur and Bitterman drive the real Batmobile (from the Tim Burton era) through the largely vacant (?!?!) streets of the city only to crash into the Charging Bull statue on Wall Street. Not only is the scene not funny, but it is completely ridiculous signaling bad things to come.
Arthur's behavior forces his business-woman mother Vivienne (Geraldine James) to lay down the law. She offers him a choice: either marry Susan (a beastly Jennifer Garner) or lose his millions. Not that it matters, but Arthur's mother's ultimatum wouldn't likely pass legal scrutiny. Arthur begrudgingly agrees to the deal, but at the same time, he falls in love with the penniless Naomi (Greta Gerwig), which naturally complicates things.
Thrown into the mix is Hobson (Helen Mirren), Arthur's doting and sarcastic nanny. In the original film Hobson was played by another gifted British thespian Sir John Gielgud, so the role has great pedigree. Turning Gielgud's butler/manservant into a nanny and casting Mirren is the film's only flash of intelligence. And what is done with this character works; it just isn't enough to make the entire movie worth recommending.
It would have been marginally acceptable had this "Arthur" just let Russell Brand be his typical funny and annoying self. After all, this is a role that Brand was born to play. But the script is a little more ambitious, attempting large scale sight gags and comedic sequences combined with poorly written moments of melodrama. There is a creepy scene in which Arthur clears out Grand Central Station for a "date." And another scene in which he attends Alcoholics Anonymous. It is the AA scene that I found particularly troubling if not downright offensive. Arthur attends a meeting and listens to a man pouring out his soul to fellow attendees. Then he mocks and insults the man and Arthur's nanny has to try to clean things up with a bit of honest testimony. But instead of being heart-felt, the whole scene comes off as disingenuous and out of touch with the reality of alcoholism. Worse still, the movie depicts Arthur's "fall" as not really being that debilitating. The lesson learned is that if you're rich enough, you can do anything to anyone and come out smelling like a rose.
Nic Nolte shows up as Jennifer Garner's scary father. And it is a frightening performance. Nolte looks like Gary Busey on a tirade from a television reality show. While that bit of crazy is distracting, it is so very oddly out of place that it becomes bothersome.
What could have been will haunt Russell Brand as "Arthur" likely receives some of the worst reviews of any film released this year. And the fault will likely fall on his shoulders even though the writers, producers, and the director should have known better. After all, they've taken a charming film from the 1980s and damaged its memory beyond repair. Hopefully, their swath of crippling destruction won't also claim the promising and usually very funny Brand in the process.
Please follow and like us: