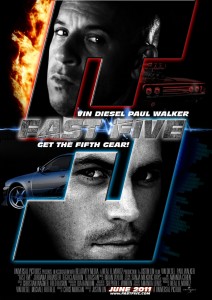 Every problem you have can be solved with a car.
That's one of the recurring themes explored ad nauseam in "Fast Five," the fifth film in the lucrative "Fast and Furious" series that started back in 2001. When Vin Diesel and Paul Walker reprised their roles of Dom and Brian in 2009's "Fast & Furious" the enormous box office haul of that film made this one necessary. So this time, in addition to Dom and Brian, many characters from previous sequels return to partake in the box office bonanza. Atlanta's own Ludacris, who greeted a cheering crowd at the Atlanta press screening, joins the new team as does Tyrese Gibson and Sung Kang. Walker's character's love interest Mia (played by Jordana Brewster) is back in good form along with two new fetching women played by Gal Gadot and Elsa Pataky. And the girls in the movie are more than just window dressing; they leave a good impression in what passes for a story. No doubt that folks exiting the theater after seeing "Fast Five" will be Googling these shapely gals.
New to the mix is Dwayne Johnson, once known to us as "The Rock," who has certainly regained his intimidating physical form. He plays Hobbs, an FBI agent hunting fugitives Dom and Brian, who have found safe haven in Rio de Janeiro. Johnson's bulging muscles dwarf Diesel's certainly impressive build, and when the two clash, it makes for one sweaty and destructive battle.
The story is essentially a heist film as Dom and Brian assemble a crack team to steal hundred million dollars from a major criminal. Of course their plan involves cars. 'Nuff said….
The reason "Fast Five" works is two-fold: (1) the audience expects over the top action and corny melodrama; and (2) once the craziness reaches what you think is its zenith, it goes farther and faster. The more outrageous it becomes the more impossible the film is to criticize. But taking the intentionally ridiculous approach doesn't always work as the recently released "Scream 4" colorfully showed us. Because things are kept tongue-in-cheek, the filmmakers clearly want us to sit back and enjoy the ride. At one point in "Fast Five," a large safe is drug behind two muscle cars through the streets of Rio. This naturally lays a huge swath of destruction in the ensuing wake. As the police pursue this larger than life wrecking ball, we're continuously reminded that these are crooked cops. That statement is clearly meant to soften the blow as the convoy of police car after police car crashes and burns.
If you see "Fast Five," you'll get exactly what you expect.
Please follow and like us: