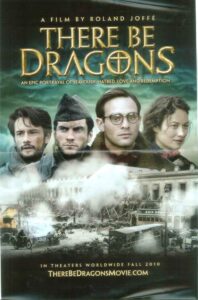 How can a film this good looking and self-important be so distant? "There Be Dragons" is extremely well-made and features fine performances by stars Charlie Cox and Wes Bentley, but the story just didn't grab me. And with subject matter this tragic and potentially interesting, it should have left me gutted.
In "Dragons," a journalist named Robert (Dougray Scott) investigates a candidate for canonization. Robert's father Manolo (Bentley) knew the candidate, Josemaria Escriva (Cox). The two have a history and attended the same seminary. But Manolo chose to leave the seminary and become a part of the Spanish Civil War. The two men pursued very different paths that would cross as the War grew increasingly violent. A subplot involves a love triangle of sorts involving a Hungarian revolutionary named Ildiko (Olga Kurylenko). And when Ildiko chooses revolutionary leader Oriol over Manolo, jealousy eats away at him. Years later, Robert attempts to unravel the dark secret that his now estranged father harbors. Will this have an impact on the canonization of Josemaria?
That question is fairly easily answered. Not likely. In fact, history informs us that Josemaria Escriva, the founder of the Opus Dei, was canonized in 2002. And he is depicted in this movie as indeed saintly to the point of being a bit dull. This is really too bad, because Escriva had to be anything but boring—his life devoted to good works. Nevertheless, "There Be Dragons" constructs a story that features Escriva but isn't really about him. Perhaps that is the main problem here.
From the website for the film, "Dragons" is described as "an epic action-adventure romance." That description is completely inaccurate. The film is really a mystery that lacks adventure and romance. The romance never really materializes between Ildiko and Manolo and we get this early in the film. After that all that's left is a lot of unpleasant angst in which Manolo pines away feeling dejected and unhappy. Meanwhile, Josemaria endures the dangers of the Spanish Civil War turning his other cheek to violence at every turn. We should expect nothing less from Roland Joffé, the director of the excellent film "The Mission" back in 1986. And where "The Mission" tackled equally tragic circumstances, it made us care about the characters giving us some of that promised action and adventure in the process.
Please follow and like us: