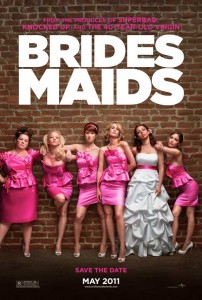 Don't call it "The Hangover." "Bridesmaids" might give the second coming of the wolfpack some competition. These girls really know how to throw down, showing the boys how the other half parties.
In "Bridesmaids," Kristen Wiig plays Annie, a late thirty-something in a bad relationship on the edge of financial ruin. When her best friend, Lillian (Maya Rudolph), gets engaged, Annie is the natural choice for maid of honor. But Annie might not be up to the challenge. After all, part of that job is being happy for the bride. And for Annie faking happiness for Lillian is just the start of her problems.
While Wiig and Rudolph, both Saturday Night Live alums, get top billing here, this is Wiig's movie. She even serves as a co-writer with fellow Groundling sketch comedy actor Annie Mumolo. In fact, Rudolph's role is largely relegated to playing the straight-man to Wiig's out of control character. And Wiig is terrific, but the real reason the film works is because she has a great supporting cast.
American audiences will likely fall hard for Irish actor/comedian Chris O'Dowd who plays Officer Rhodes, Annie's legitimate love interest in the film. O'Dowd first came to my attention playing Roy in the extremely funny Channel 4 UK series "The IT Crowd." In "Bridesmaids," O'Dowd brings his affable disposition to the role of Officer Rhodes who casually wins Annie's heart by playing one of the more grounded people in her life. And despite the odd swings in tone from slap-stick humor to melodrama, the film works due in no small part to supporting work by O'Dowd and others.
Stepping out in a big way is former "Gilmore Girls" star Melissa McCarthy. Playing Megan, the sister of the groom, McCarthy makes for one exciting bundle of comedic energy. Always in motion, she approaches Megan non-stop delivering funny one-liners that will stick with you afterwards while engaging in a bit of physical comedy that begs to be seen. McCarthy (who I really liked in 2007's "The Nines" opposite Ryan Reynolds) dominates almost every scene she is in and even carries us out in an end credit sequence that is as bizarre as it is hilarious.
"Bridesmaids" is produced by Judd Apatow who found great success with "The 40 Year Old Virgin" and "Knocked Up." Here Apatow has tapped fellow "Freaks and Geeks" collaborator Paul Feig to direct. But Apatow's touch is heavy in "Bridesmaids." Like his largely unsuccessful 2009 film "Funny People" with Adam Sandler, the film drags a bit in places, and it could be shorter—running over 2 hours. And there are shots that just ought to be banned from ensemble comedies, in particular, that ubiquitous slow motion tracking shot of the pack of girls walking through an airport. Been there, seen too much of that. But "Bridesmaids" has so many funny scenes that it can be forgiven for its excesses.
As a springboard for comedian Wiig, "Bridesmaids" is a good coming out film. She has been giving us great work for years—she had a funny turn in Mike Judge's underrated 2009 film "Extract," and she was very charming in "Paul" earlier this year. But Wiig's not the only one to reap "Maids'" benefits as the supporting cast gives the story more weight. Comparisons to "The Hangover" are inevitable and the sequel is just a couple weeks away, but "Bridesmaids" is sweeter and places more emphasis on the dramatic elements. The wolfpack might be on their way back, but this weekend, the girls could steal a bit of their laughter.
Please follow and like us: