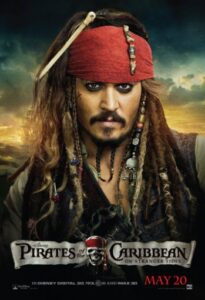 This is the "Pirates" that fans have been waiting for. "On Stranger Tides," the "Pirates of the Caribbean" reboot, is all about Captain Jack Sparrow and his alter ego Johnny Depp. Or is it the other way around?
In 2003, when the first "Pirates" film reinvigorated the swashbuckling genre, Johnny Depp was already a big star. But no other role has become him more than that of the odd, sometimes drunken, pirate Jack Sparrow who is never quite as bad as his legend foretells. And this new film more than whets the appetites of rabid fans that have formed pirate clubs where they dress as Jack and swill pots of rum while groping their favorite wench.
The story this time around has Sparrow on a mission to find the fountain of youth. We meet the Captain in London where he attempts to rescue his best first mate Gibbs (Kevin McNally) from the gallows. This brings Sparrow face-to-face with the King of England himself (played by "Harry Potter's" Richard Griffiths). During yet another escape, Sparrow finds himself waylaid by an old love named Angelica (Penélope Cruz). He awakes a prisoner aboard a very dangerous ship belonging to none-other-than Blackbeard (Ian McShane). The race is on to find the mythical fountain of youth. In the hunt is Captain Barbossa (Geoffrey Rush) who is back for another adventure this time missing one of his legs!
"On Stranger Tides" is an odd sequel because it is meant as a reboot to the series that let's face it, ran its course at "World's End" in 2007. And try as it might, it can't shake feeling less than the ones that came before it. The entire production seems less grand than the three previous films. Part of this is because the images are so dark and with the addition of 3D hard to define. Yes, this is another example of the failure of the new three-dimension format. From the opening shot of the film, viewers are plunged into darkness. Very little action takes place in the light of day, and we're not even given one good ship-to-ship battle on the high seas. One would think that 3D would be perfect for a swashbuckler in which an ocean voyage could be captured beautifully. But the "Stranger Tides" story is smaller and focused on character. That's right, for all the promised action that has made this series of films summer blockbuster material, "Stranger Tides" is a very talk heavy affair. It relies, perhaps smartly, on Depp to deliver quote-worthy dialogue that is itself a special effect. And this works, especially in one scene in which Sparrow interacts with Keith Richards' Captain Teague character.
What's noticeably missing from this "Pirates" are the young lovers Will Turner (Orlando Bloom) and Elizabeth Swann (Keira Knightley). And when I heard about this reboot, I thought that ditching them was a good idea. After seeing "Stranger Tides," I'm not so sure. In their place, we're given a new attractive duo—Phillip (Sam Claflin) and his mermaid love Syrena (Astrid Berges-Frisbey). But the characters don't really meet until half way through the movie. Viewers have little time to get to know them and identify with their plight. Plus, a relationship between a man and a mermaid is just plain weird anyway.
As far as a summer popcorn film, "Stranger Tides" is more of a bridge to the movie that is come. Additional sequels are on the horizon. My hope is that the 3D will be abandoned and the story will focus on how Captain Jack Sparrow became the quirky anti-hero viewers love.
Please follow and like us: