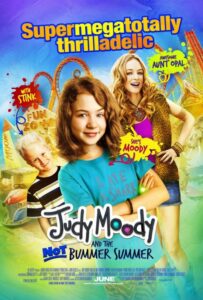 It really bugs me when a kid's film has the young characters bouncing around in a moving car without wearing their seatbelts. And while watching "Judy Moody and the Not a Bummer Summer" it was this image above all that I found unforgivable. This is a movie targeted at young girls that will certainly make them laugh but won't teach them much.
"Judy Moody and the NOT a Bummer Summer" is adapted from the books written by Megan McDonald, who helped write the screenplay and serves as one of the film's producers. It's directed by John Schultz, who previously found success with the basketball film "Like Mike" and last gave us the bland "Aliens in the Attic." Comparisons to "Diary of a Wimpy Kid" are fair, but "Moody" feels more like the sequel to that one, which I didn't care for, than the charming first "Diary" outing. Going for cheap laughs and lowbrow gags, "Judy Moody" may enchant very young girls but leave parents happy to see it end.
In "NOT a Bummer Summer," Judy Moody (a very energetic Jordana Beatty) has her summer all planned. But when one of her friends goes off to circus camp and another hops a jet for Borneo, Judy's whole agenda is wrecked. And when her parents have to go take care of a sick relative, she's left with her Aunt Opal (Heather Graham). Judy's determined to not let these setbacks impede her thrilling summer vacation. This means that she's got to figure out a way to beat the summer bummer blues even if she's got to go it alone. Of course, her younger brother Stink (Parris Mosteller) might get in the way, especially given that Bigfoot himself is out on the prowl in the neighborhood.
Feeling kind of a like "Pee-Wee's Big Adventure" at times, "Judy Moody" just doesn't hang together. Heather Graham makes for one shapely Aunt Opal and Jordana Beatty is extremely cute, but the story is really uneven not knowing whether it wants to be a fantasy or just another kiddie comedy. There are some nice casting choices like an all grown up Jaleel White as Judy's fun loving teacher. White certainly doesn't look like the quintessential nerd he played for years on TV, but the geek vibe is happily simmering underneath his Mr. Todd. And frankly it's a television show vibe that makes "Moody" feel less like something you should have paid to see on the big screen and more like one that ought to be playing on the small one. While fans of TV's "iCarly" and "The Wizards of Waverly Place" might like this kind of thing, it is a little out of place in the summer blockbuster market especially when the Abrams/Spielberg film is gobbling up the box office.
The production design of "Moody" is sure colorful and exuberant but the story just doesn't give viewers a reason to cheer. And what's worse is that this summer outing doesn't make us want to see another one.
Please follow and like us: