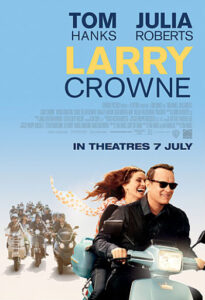 The problem economy is no laughing matter. But sometimes finding good-natured light laughs in the pain we all are experiencing breaks the tension. And "Larry Crowne" fits that bill pretty well.
Larry Crowne spent almost 20 years in the Navy before entering the private work force. But when he's laid off from his beloved job at the local UMart (think any big box store), he's a bit lost. A recent divorce left him in tough economic shape and his home might be foreclosed on. When he tells his enterprising neighbor, Lamar (Cedric the Entertainer) about his plight, Lamar tells Larry to get some college so that he is "fire-proof."
So, Larry takes off for the local community college. Along the way, he runs into the dean of students (played by character actor Holmes Osborne) who encourages him to take a speech class. "You'll really like the teacher," the dean says with a wink. And "like" is right, the teacher is played by "Pretty Woman" Julia Roberts.
Signs of the times are everywhere in "Crowne." Larry buys a small scooter to replace his SUV and save gas. This leads him to join a college scooter gang headed by Dell Gordo (Wilmer Valderrama) and get style tips from the flirtatious Talia (Gugu Mbatha-Raw). In time, Larry will be remade. He'll discover that he might have a knack for education and that starting over even at his age and in this economy is possible.
"Larry Crowne" is pretty light weight stuff. It has good clean fun and isn't controversial. The set up is contrived—Larry is a great UMart employee, but is let go because he hasn't gone to college. Viewers will collectively roll their eyes when the basis for Larry's firing is explained to him. And the supporting cast in that scene wriggles a few cheap laughs out of it, which unfortunately undermines the emotional connection that could have been made. But the story recovers mainly because Hanks is so amiable and surrounded by a number of likable performers. The cast includes George Takei as a hilarious econ professor and a slim, hip looking Bryan Cranston as Robert's character's looser husband.
Despite story flaws that compress time and make leaps in logic, the film hangs together well providing Hanks and Roberts with a good vehicle that keeps their arguably fading stars burning. Hanks, directing here for the first time in a feature since his excellent "That Thing You Do" in 1994, makes a good decision to place himself in the lead. The script is co-written by "My Big Fat Greek Wedding's" Nia Vardalos and has a real Vardalos vibe. But without A-List casting, "Larry Crowne" would likely be a direct to DVD offering.
If you're going to make jokes about the economy, "Larry Crowne" is probably the right way to do it.
Please follow and like us: