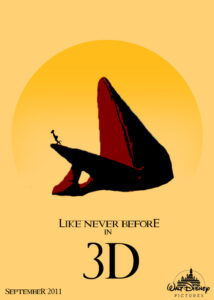 Another Disney classic gets a makeover. "The Lion King" can be seen in 3D starting this Friday. I was treated to an advanced screening of the film in the new format and I am pleased to report that it looks really wonderful.
My daughter and step-son also enjoyed the "improved" version even though they grew up watching "The Lion King" and were intimately familiar with the story.
If you've not seen the movie, it's loosely based on Shakespeare's "Hamlet" and follows the birth and growth of Simba, after the suspicious death of his father. Simba must find himself in order to become the title character and help save his people.
The voice talents include Matthew Broderick, James Earl Jones, Nathan Lane, Jeremy Irons and other celebrity voices. The 1994 film won Academy Awards for Best Music—Original Score and Best Music—Original Song for "Can You Feel The Love Tonight" by Elton John and Tim Rice. Hans Zimmer's fantastic score stays with you and is showcased immediately during the film's iconic opening sequence.
The 3D gimmick really pays off here without distracting from the original 2D traditionally animated material. Unlike the last Harry Potter film where the post-conversion process made it look overly dark and even less in focus, the process applied to "King" does not have that effect. Instead, while the overall picture might be dimmer than if it had been in regular 2D, the depth is much greater. And for an epic animated tale like this one, adding visual depth is a plus. Now, a whole new generation can discover the classic and those familiar with it already can rediscover it as well.
Editor Note: On this week's Film Fix, I hope to interview Philip S. Boyd, an artist and a member of the animation department responsible for "The Lion King." I had a chance meeting with Philip last night and have scheduled an interview for today. It is so special to have such talented people living in my home town of Newnan, Georgia. Check back for the interview this week.
Please follow and like us: