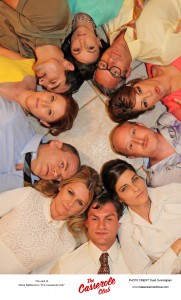 A highly stylized examination of sexual inhibition and excess, "The Casserole Club" winds its way to the promise land by way of the bedroom. This odd little indie is director Steve Balderson's most mainstream film to date. It will play wider than his indescribable genre audience while managing to retain his signature touch of weird.
Set in what reports to be the 1960s, "The Casserole Club" environment feels alien. From the opening title sequence that delivers all the credits front-loaded, we get California palm trees and a modern (for any time) suburban neighborhood. Focusing on several couples who form the title club, they meet for nights of food and fun that quickly devolves into sexual debauchery. The swinging vibe is evoked with plenty of alcohol in the requisite form of the martini and even, at one point, a bit of the old hash cake. But as the couples swap around and share, the fun wanes and begins to get creepy.
Secrets abound many focusing on sexual identity issues. Troubled ring-leader Conrad (Backstreet Boy Kevin Scott Richardson) and his estranged wife Sugar ("Firecracker's" Susan Traylor) already had a strained relationship prior to taking part in the swinging parties. Another couple is considering having children. And another sleep in separate beds with the husband harboring secret sexual desires. The serious issues are handled with wit ranging from tongue-in-cheek satire to campy soap opera melodrama. Everything right down to awkward and stilted dialogue is intentional and part of the evolving Balderson dialectic. Viewers not familiar with the auteur's work are encouraged to watch his terrific "Firecracker" prior to taking in "The Casserole Club." Balderson fans know what to expect, and here they get exactly what they would expect.
The cast is game for the slightly sloppy, meandering material written by Frankie Krainz. Making the most of it is Traylor, who was marvelous playing the handsome sheriff in "Firecracker" (maybe I have a thing for women with badges). Traylor's able to play frustrated soap opera housewife here ditching the dungarees for mini-skirts and flowing blonde hair. Her large performance is matched by Richardson, who chews and snarls and gives his all. Also worth mentioning is Daniela Sea, whose lovely eyes are not to be missed. She's given a lot to do here, which will satiate rabid "L Word" fans. Finally, the always cute and bubbly Starina Johnson (see "Stuck") gets to be clueless and plucky as only she can. In one scene, Balderson even gives her a vintage hand-mixer as a prop, which is perfect for her Amy Adamsesque domesticated sweetness and should give the producers of "Mad Med" cause to cast Starina somewhere.
The look of the film is colorful with everything highly saturated. Balderson has lit his interesting sets well often shooting in a flat deep focus with good dynamic range—he obviously wants us to see everything. Now fully embracing the digital medium, "The Casserole Club" is his most electronic looking film to date. This is surprising given Balderson's loud vocal commitment to film (as in "shot on film") and his commanding control of that format was on display in 2005's "Firecracker." By going completely the other way, Balderson capably shows that he can work in any medium.
And the digital images are matched by the sound design that attempts with varying degrees of success to duplicate the feel of being in the room. Audio is very rough with ambient sounds at the same level of dialogue. Again, I would think this is a choice as it is consistent throughout.
The work of Steve Balderson is constantly evolving. He is able to assemble popular eclectic casts and put them into narratives that are interesting and stretch their talents. Here he seems to be channeling the work of the late French filmmaker Claude Chabrol and creates an exploitive sexual yarn that is close to soft-core but is able to comment on excess in a sophisticated and meaningful way. While I was not a fan of the visual scope and digital look of the film, I understand it and Balderson no doubt came in within his meager budgetary constraints. Hopefully, his next film will look as beautiful as "Firecracker" and reach a larger audience. Balderson has it in him to make a film that no one could ignore.
Please follow and like us: