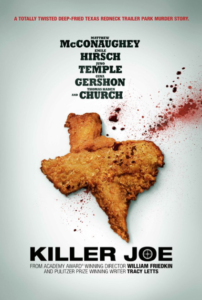 William Friedkin directed "The Exorcist" and "The French Connection" two of most celebrated films of the 1970s. I especially liked his movie "Sorcerer" and in the 1980s his gritty "To Live and Die in LA" was one of my favorites. Fans of "To Live and Die" and that well-staged car chase with the jack-knifed tractor trailer should really go back and check out "The French Connection" because the car chase in that film (stunts done by the famous Bill Hickman) was partially shot by Friedkin himself from inside the car. William Friedkin is quite an interesting director and now even in his 70s, his work continues to sizzle.
"Killer Joe," the adaptation of the Tracy Letts stage play, is another fine example of the master's work. While not as action packed as "The French Connection," it smartly relies on character to hold audience interest. And along side of tense action set-pieces, finding strong characters is a hallmark of Friedkin's work. The movie stars Matthew McConaughey as the title character, Killer Joe Cooper, a Texas lawman who moonlights as a contract killer. Continuing McConaughey's successful resurgence, that for me began last year with his fine work in "The Lincoln Lawyer," "Joe" is a film that contains better performances than its low rent and vulgar subject matter.
This is a movie that literally wallows in its base and crude story making you itch and run for the shower after exiting the theater. The story is about the Smith family led by drunken and clueless patriarch Ansel (Thomas Haden Church) and his son Chris (Emile Hirsch) and his simpleton daughter Dottie (Juno Temple). When Chris gets word that his mother has taken out a $50 thousand life insurance policy, he decides that she is worth much more to the family dead than alive. And before you think, "wow, life is cheap in Texas," you have to meet the Smith family. They live in a trailer and drive cars that aren't worth rolling up the window in the pouring rain. Everything is cheap in their hard scrabble existence.
When Chris and Ansel hire Joe to do the deed, he requires a down-payment. They don't have any money, but trade Dottie to Joe temporarily until the life insurance pays off. You already know that this isn't going to end well. But you have to hand it to uncompromising writer Letts and veteran Friedkin, whose steady directing hand raises the profile of this southern pot boiler. Both the script and the direction perfectly capture the grimy story elements right down to the dirt in every nook and cranny. And the performances are just peerless especially McConaughey who makes memorable use of a KFC chicken leg. And that is one scene that will stay with you. At a dinner party over cocktails, you'll want to let people know that you've seen what McConaughey does to Gina Gershon. It might be worth the price of admission if you know what you're getting into.
After seeing McConaughey's characterizations in "Lincoln Lawyer," "Magic Mike," and now "Killer Joe," I can't wait to see what he does next. And with the small and memorable success of this film, William Friedkin adds another interesting film to his classic collection.
Please follow and like us: