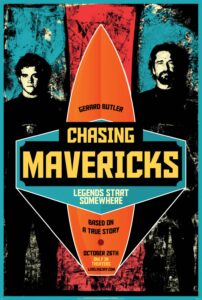 Hammy and a bit corny, "Chasing Mavericks" finishes much better that it starts. I was surprised how moved I was by the film's closing moments.
I know very little about the sport of surfing. In fact, I have little interest in it. But "Chasing Mavericks" made be appreciate surfing and even educated me on the difficulty of catching the big wave.
Based on the brief and exciting life of pro-surfer Jay Moriarty, "Mavericks" focuses on Moriarty's life in Santa Cruz, California, and his training by Frosty Hesson (Gerard Butler). Despite the solid cast and talent behind the camera (the movie is co-directed by Curtis Hanson and Michael Apted), the narrative is clunky and just too soft. It plays a little bit like a weak inspirational entry that would have trouble finding a home on a lower tier cable station. But the surfing angle redeems the film, as the sport is well-represented. One wonders how much better it would have been had the soapy dramatic elements been given a grittier treatment. Still, "Mavericks" would be fine viewing for pre-teens and those kids a little older, but teens not interested in surfing might tune out quickly.
Butler gives a solid performance as surrogate father and surfing guru Frosty, and it is good to see Elizabeth Shue in the role of Moriarty's troubled alcoholic mother. But the actors are not given a script that feels real enough for them to ply their significant talents. Fresh-faced Jonny Weston is okay in the lead, but seems cast mainly for his resemblance to the real Moriarty. He apparently did some of his own surfing in the film, and those scenes look very authentic.
Surprisingly, "Chasing Mavericks" is directed by the somewhat unlikely team of Curtis Hanson ("Wonder Boys" and "L.A. Confidential") and Michael Apted (of the excellent documentary "__ Up" series and a Bond film among other high profile projects). I'm a big fan of both directors, but aside from working the surfing elements into the story and showcasing the sport extremely well, I'm very disappointed by everything else. These directors either deserve better material or should have brought something unique to what they were given. They are capable, obviously, of more impactful narratives.
Regardless of the limp dramatic story leading up to the film's conclusion, "Chasing Mavericks" will charm surfers and wannabe surfers with its thrilling surfing sequences. And rarely have the closing credits, which feature archived footage of Jay Moriarty himself, outshined the rest of the film upon which it was based.
Please follow and like us: